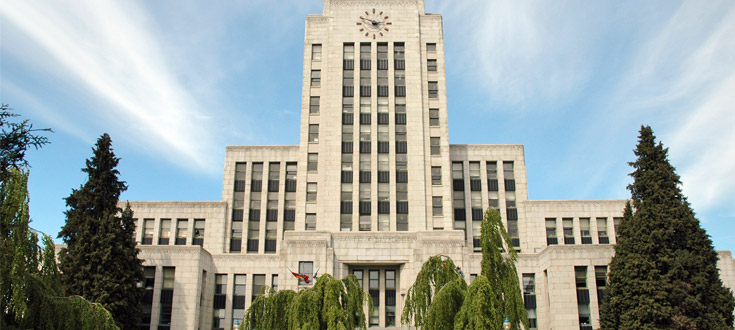 Vancouver Mayor and Council officially sworn in today
November 7 2022 –
Today the inauguration was held for City of Vancouver's Mayor Ken Sim and the 10 members of Council – Councillors Rebecca Bligh, Christine Boyle, Adriane Carr, Lisa Dominato, Pete Fry, Sarah Kirby-Yung, Mike Klassen, Peter Meiszner, Brian Montague, and Lenny Zhou. The Mayor and Council were elected in October and will serve a four-year term from 2022 to 2026.
The Hon. Judge Derek Mah of the B.C. Provincial Court administered the oaths of office at the Orpheum theatre in Vancouver. The event's master of ceremonies was Raymond Louie, five-term Vancouver City Councillor.
In attendance were:
Councillor Allyson Fraser, Musqueam Indian Band
Khelsilem, Council Chairperson, Squamish Nation
Councillor Dennis Thomas Whonaok,Tsleil-Waututh Nation
Deacon Richard Chau, representing Archbishop Michael Miller, Roman Catholic Archdiocese of Vancouver
Rev. Beth Hayward, Lead Minister, Canadian Memorial United Church
Rabbi Dan Moskovitz, Senior Rabbi of Temple Sholom
Head Granthi Gayni Harminder pal Singh, Khalsa Diwan Society
Tariq Tyab, Muslim Community Representative, Al Jamia Al Masjid Vancouver and the BC Muslim Association.
Event details
The event included the Vancouver Police Department and Vancouver Fire Rescue Services Honour Guard led by Departmental Sergeant Major Ray Gardner and Pipe Major Cal Davis, as well as performances by Andrew Greenwood and the Vancouver Fire Rescue Services Band; and the Vancouver Police Department Lion Dance Team with its sister club Shao Lin Hung Gar Kung Fu Association.
Council's inaugural meeting will be held this evening, November 7, at 5pm. Review the agenda and watch or listen to the live broadcast.
A recording is available on our Inauguration page.