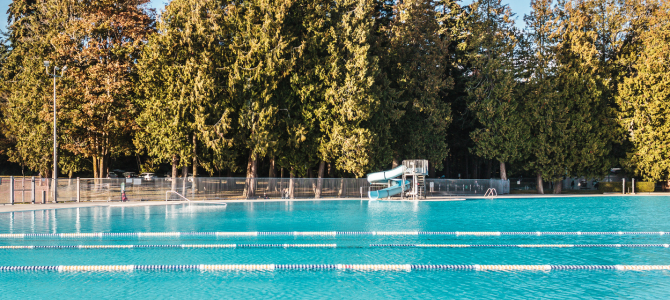 Vancouver Parks and Rec is ready to make a splash with another outdoor pool and beach season
May 15 2023 –
On May 20, 2023, the Vancouver Board of Parks and Recreation will open two of its outdoor pools and staff beaches with lifeguards to help people safely enjoy time in and around the city's waters this summer.
Beaches
As of May 20, lifeguards will patrol and supervise designated swimming areas at beaches:
English Bay
Jericho
Kitsilano
Locarno
Spanish Banks East and West
Sunset
Second
Third
Beginning May 20, patrolled swimming areas will be marked by red and yellow coloured flags from 11:30am to 8:30pm daily. These patrol hours will change in the latter months of the summer to accommodate earlier sunsets.
Find information about beaches
Outdoor aquatic season schedule
It is recommended outdoor pool users register online in advance through Showpass, which will be live as of Wednesday, May 17 at noon. Please visit vancouver.ca/outdoorpools for more information on how to use Showpass and registration details.
There will be a number of sessions available for drop-ins; however, admission is not guaranteed. Registration for May 20 opens on May 17 at noon, and visitors can continue to book sessions three days in advance for the remainder of the season.
Regular Season Hours of Operations
Session
Kitsilano Pool**
New Brighton
Second Beach
Morning
7am to 8:30am lengths swim
9am to 11:30am public swim
7am to 8:30am lengths swim
9am to 11:30am public swim
*
Afternoon and Evening
12pm to 2:30pm public swim
3pm to 5:30pm public swim
6pm to 8:30pm public swim
12pm to 2:30pm public swim
3pm to 5:30pm public swim
6pm to 8:30pm public swim
12pm to 2:30pm public swim
3pm to 5:30pm public swim
6pm to 8:30pm public swim
** Kits pool will not be open on May 20. Please see Kitsilano Pool Update below for more information.
* Second Beach pool will open for the AM sessions to accommodate early-risers wanting to get laps in or a cooling dip while the day is young until Kits Pool is open for the season
Lanes with lane ropes are available at New Brighton and Second Beach pools during all public swim times.
Maple Grove and Hillcrest outdoor pools will open on June 15. More operational details to follow in the coming weeks.
Spray parks
The following spray parks are currently open to the public from 9am to 9pm daily:
Chaldecott
Connaught
CRAB
Harbour Green
Garden
Grandview
Hastings
Oak
Prince Edward
Pandora
Norquay
sθәqәlxenәm ts'exwts'áxwi7
Maclean Park will remain closed as it await repairs.
Wading pools
Wading pool locations are scheduled to begin operations the week of July 3.
Additional information for pools and beaches
Leisure Access Pass holders will need an access code to the reservation system. Visit vacouver.ca/leisureaccess for more information.
Kitsilano Pool Update
Kitsilano pool will remain closed as staff continue ongoing repairs from major storm damage sustained in 2021, which involves filling more cracks for a longer lasting result.
This process will involve filling and draining the pool several times. After the initial water hold and drainage tests, the weather will need to be warm (at least 10 C overnight for one week) and consistently dry for 10 to 12 days for sealant to cure in the cracks. Following this, two additional weeks of closure are required to fill, treat and heat the pool for opening day.
Because this process is ultimately dictated by weather in Vancouver, a firm opening date has not yet been established, but this will be communicated as soon as possible with pool patrons.
Alcohol in Parks and Beaches Pilot
From June 1, the public will be able to bring and consume alcoholic beverages at 31 permanent year-round park locations across Vancouver. In addition, 16 parks will become permanent summer-only sites between July 1 and August 31 each year.
Between June 1 and September 4, 2023, beachgoers will also be able to drink at seven of Vancouver's beaches as part of a recently approved pilot.
Following recent changes to the Park Board by-law, glass beverage bottles and containers are prohibited at parks and beaches. For all sites, the consumption of alcohol will be allowed between the hours of 11am and 9pm daily.
Park and beach users are reminded to act responsibly when drinking alcohol. Please exercise caution when drinking alcohol on beaches and avoid entering the water when intoxicated.
For most parks included in the program, drinking will be allowed throughout the park, except in areas like playgrounds, wading pools and splash parks, sports fields and courts, community centres, ecologically sensitive natural areas, parking lots, and off-leash dog areas.
We ask residents and visitors to respect other park users and help keep greenspaces clean by properly disposing of trash or taking it away with them. When consuming beverages in parks and beaches (alcoholic or not), please avoid bringing any glass bottles or containers, and instead bring cans, reusable and/or plastic or paper-based containers.
For a list of parks and beaches where drinking is allowed, visit https://vancouver.ca/parks-recreation-culture/alcohol-in-parks
On Water Plan Update
On June 1, the On Water plan will be permanently implemented following a successful pilot. The plan provides designated launch and recovery areas at beaches and parks managed by the Park Board.
Non-motorized watercraft include any on-water recreation activities involving small watercraft powered by people and other natural elements, such as canoeing, kayaking, rowing, dragon boating, outrigging, paddle boarding, surf skiing, windsurfing, small craft sailing, kite surfing and boarding.
This plan aims to assist with expanding the recreation opportunities, participation, and access to water while safely managing non-motorized watercraft activities at four swimming beaches:
Kitsilano
Spanish Banks East (this is the only designated kite surfing launch location)
Spanish Banks West
Sunset Beach
On Water Plan includes:
New lifeguard responsibilities and guidance for beach users;
Designated launch and recovery access areas (11:30am to 8:30pm, June-September), with black and white quartered beach flags compliant with the International Life Saving Federation's standard for flags;
Installed temporary beach signs, updated the website, and used social media to inform and educate users and the public about the pilot and locations.
Lifeguard Recruitment
The Park Board proudly provides world-class community programming in various state of the art facilities. Our prized recreation programs are a result of the dedicated team who strive to maintain the highest standards of service by giving back to the community in an impactful and rewarding way.
When you work as a lifeguard, you make a positive impact in your community, build life skills, act as a role model, and best of all, you have fun.
Indoor lifeguard positions start between $25.21 to $29.63 per hour with an additional 12 per cent in lieu of benefits. Outdoor lifeguard positions start at $30.81 per hour with an additional 12 per cent in lieu of benefits.
Apply today at vancouver.ca/lifeguard.
Learn more about safety guidelines and registration for outdoor pools here: https://vancouver.ca/parks-recreation-culture/swimming-pools.aspx