Benefits of gardening without chemicals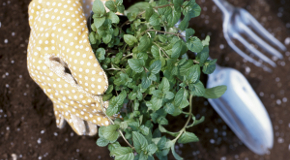 Get your yard off drugs! In Vancouver, you cannot use pesticides for cosmetic (visual) applications. Pesticides can only be used on lawns and gardens to control an infestation, or destroy a health hazard.
But this doesn't mean taking care of your yard has to be complicated. When you use natural gardening techniques, you:
Cut time wasted on raking and bagging leaves.
Save money on water, waste disposal, and chemicals.
Help conserve water, and protect soil, streams, lakes and people from chemicals.
How to keep your yard drug-free
Step 1: Choose wisely
Pick pest-resistant plants for your lawn and garden. Replace problem plants with heartier plants, and clean up diseased or dead plants to prevent pests from breeding.
Step 2: Build healthy soil
Get a composter, and use compost when creating new garden beds, or planting a new lawn. Spread compost around plants in spring and fall.
Step 3: Fertilize moderately
Use organic fertilizers made from manure or composted sewer sludge. Fertilize twice a year maximum, in mid to late May and early September.
Step 4: Be water wise
Collect rainwater using a rain barrel. Water your lawn with 25 mm (1 in) of water (about an hour) once a week in warm weather, in the morning to reduce evaporation. 
Step 5: Mow and go
Let your lawn reach 6 cm (nearly 2.5 in) high before mowing. Longer grass protects your lawn from heat, and helps grass grow deeper roots and hold more moisture.