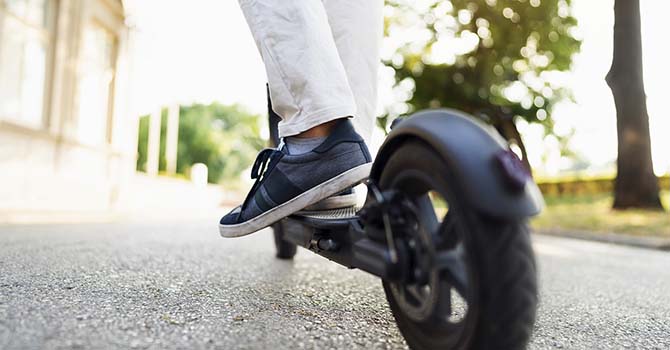 Council approves electric kick scooter pilot project
Public safety is a priority in delivering this pilot. As the use of electric devices becomes even more widespread, it's important for us to better understand these emerging sustainable modes of transportation.
Mayor Kennedy Stewart
June 25 2021 –
Today, City Council approved the personal use of privately-owned electric kick scooters throughout Vancouver on minor streets (without lane lines or directional driving lines) and protected bike lanes as part of a Provincially led pilot program .
People using electric kick scooters must follow the same rules as cyclists and be at least 16 years old. Eligible scooters must meet provincial requirements, including being limited to speeds below 24km/h. A driver's licence and insurance are not required. Rentals and shared programs are not part of the pilot at this time but may be considered in the future once safety, accessibility and other considerations are better understood.
Vancouver is one of six cities across BC to be part of the program to research, test, and evaluate the safety and operation of electric kick scooters and the pilot is expected to run until April 5, 2024 if successful.
Riders will be prohibited from operating on sidewalks, the seawall and major streets, consistent with our current by-law, which only allows the use of non-motorized devices in these areas.
Our participation in the pilot aligns with our commitment to transportation safety, Vision Zero goals and to our commitment to alternative, low carbon transportation options as part of the Climate Emergency Action Plan.
Council have directed staff to report back on initial interim findings of the pilot in early 2022.