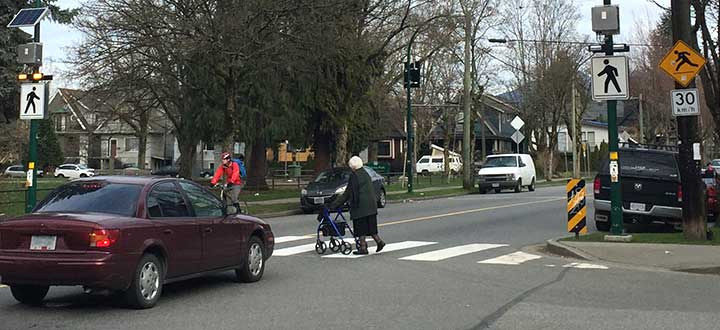 Moving towards zero: Vancouver's transportation safety action plan
Our goal: To have zero traffic related fatalities
In recent years we have taken steps to improve transportation safety. We have made progress but more work is needed as fatalities and serious injuries still occur, and even one fatality is too many.
Great strides are being made around the world and more and more public and private agencies are recognizing that zero fatalities is the only acceptable goal for transportation safety.
To achieve our goal, we developed our Moving Towards Zero Safety Action Plan

(2.7 MB), which we presented to City Council in November 2016.
Recent steps we've made
Embedded the zero traffic related fatalities target in our Transportation 2040 Plan
Conducted a Pedestrian Safety Study and Action Plan (8 MB) (68 of 69 priority actions have already been completed)
Conducted a Cycling Safety Study (10 MB) (findings from that study have been implemented in new bikeway designs)
Created the Traffic Safety Advisory Group to develop strategies to improve safety from a multi-disciplinary perspective; including feedback from our health partners
Help us VANquish collisions
Join our Hackathon and help us reach our goal of zero transportation related fatalities and serious injuries.
Your safety is our focus
What we're doing
Report an issue or request a service
Questions about our program? Email us.