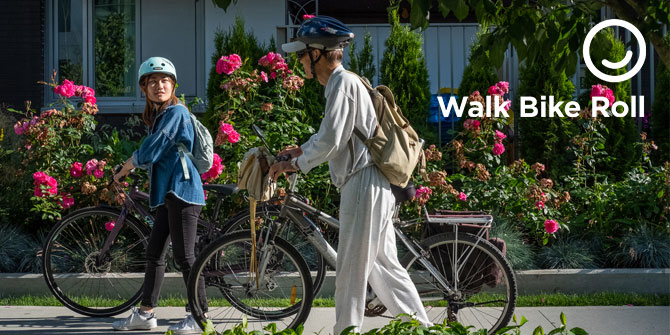 Walk, bike, roll, transit: Getting around the Vancouver way
Our goal: to help achieve our Climate Emergency Action Plan target that two-thirds of daily trips taken be by active transportation and transit by 2030.
Over the past 20 years, the number of people living, working, and travelling in Vancouver has grown, and there are more trips than ever.
Despite this, the total number of motor vehicles entering Vancouver and downtown has declined. More people than ever choose to get around by walking, cycling, rolling (mobility aid, skateboard, scooter, etc.), and transit.
By walking, cycling, rolling, and taking transit more often, you're:

of trips in Vancouver are made by walking + rolling, cycling, or transit.
Keep up-to-date on our projects
Follow us on Facebook

Email: walkbikeroll
@vancouver.ca
Related projects:

Carshare moving towards zero-carbon options

of trips are made by sustainable modes (walking, cycling, rolling, and transit)

of bike networks are designed for all ages and abilities (AAA) as of 2021

kilometres of Slow Streets installed to make it easier for people to walk, cycle, and roll

kilometres of cycle routes as of 2021

daily cycling trips made in 2020