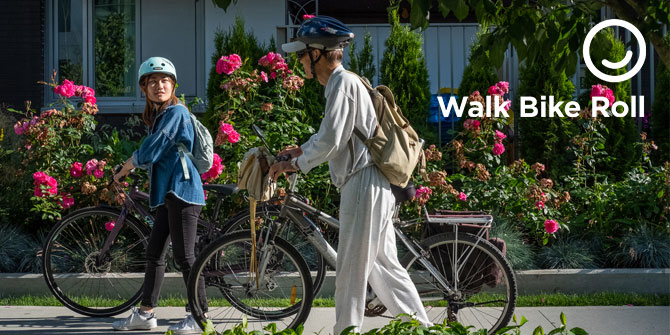 Walk, bike, roll, transit: Getting around the Vancouver way
Our goal: Encourage and support walking, cycling, and rolling so that 2/3 of all trips are made by walk, bike, and transit!
Over the past 20 years, the number of people living, working, and travelling in Vancouver has grown, and there are more trips than ever.
Despite this, the total number of cars entering Vancouver and downtown has declined. More people than ever choose to get around by walking, biking, rolling (skateboard, scooter, etc.), and transit.
By walking, cycling, rolling, and taking transit more often, you're:

of trips in Vancouver are made by walking + rolling, cycling, or transit.
How we are improving walking and cycling in the city
We've set specific targets for the number of people walking and cycling to get around Vancouver.
To encourage and support walking, cycling, and rolling, we are:
Building all ages and abilities cycling routes
Encouraging and supporting walking, cycling, and transit
Enhancing pedestrian safety
Keep up-to-date on our projects
Follow us on Facebook

Email: walkbikeroll
@vancouver.ca
Related projects:
Our partners
TransLink is the regional transportation authority for Metro Vancouver. In addition to being the transit operator in the region, TransLink plays a key role in planning and funding walking and cycling infrastructure, including sidewalks, greenways, and bike parkades.
HUB Cycling has a mission is to get more people cycling more often. HUB delivers popular events like Bike the Night and Bike to Work Week.
Better Environmentally Sound Transportation (B.E.S.T.) : offers innovative social enterprises, programs, and services to encourage, promote and enable sustainable and active transportation chocies.
Walking and cycling statistics in Vancouver

decrease in distance driven per person since 2007

of trips are made by sustainable modes (walking + rolling, cycling, transit)

of Vancouver's bike network is designed for all ages and abilities (AAA)

of Vancouver residents have a carshare membership

kilometres of bike routes

of trips made on foot or by bike involve a friendly interaction