Greenways: Making Vancouver a more walkable, bikeable city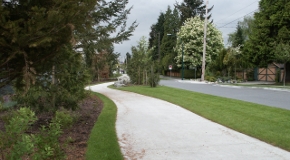 Greenways provide beautiful urban connections to important destinations throughout Vancouver for pedestrians and cyclists.
Greenways enhance the experience of walking and cycling by including improvements like expanded parks, increased landscaping, public art, and drinking fountains.
Part of making Vancouver a greener and more sustainable place to live is making it more comfortable and attractive to walk or bike.
How greenways are different from bikeways
The primary goal of bikeways is to make cycling a safe and convenient mode of transportation, largely through traffic calming measures.
While bicycle commuters will also use greenways, and many sections of the greenways and bikeways networks will overlap, recreational or less confident cyclists may feel more comfortable cycling along greenways.
Types of greenways
Related initiatives