City greenways: Improving connections across Vancouver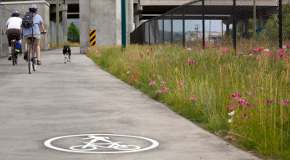 The City is working towards the goal of ensuring there is a city greenway no more than a 25-minute walk or a 10-minute bike ride from every residence in Vancouver.
Once the city greenway network is complete, together its 18 routes will be about 150 km long.
While greenways are generally evenly distributed throughout the city, routes are concentrated in areas with greater population density and a higher number of destinations, such as the downtown peninsula.
Benefits of city greenways
City greenways:
Expand the opportunities for urban recreation
Encourage people to travel by foot and by bike
Enhance the experience of nature and city life