Print
Transportation 2040 Plan
Transportation 2040 is a long-term strategic vision for the city that will help guide transportation and land use decisions, and public investments for the years ahead.
It provides a blueprint for us to move forward, build upon our past successes, and rise to meet new and emerging challenges.
The plan sets long-term targets and includes both high-level policies and specific actions to achieve this vision.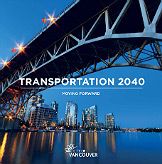 Complete Transportation 2040 Plan (15 MB)
Condensed plan (16 MB)
How we will achieve our goals
Transportation 2040 is a part of our larger strategy to ensure an inclusive, healthy, prosperous, and liveable future for Vancouver.
Many of the actions we will take to achieve these goals will require more detailed study and consultation.
Given limited resources and practical constraints, achieving our goals requires us to prioritize our efforts and explore innovative funding and design solutions.
What's happening
Annual transportation panel survey
Who: Mustel Group (professional market research firm)
What: Survey of Vancouver residents on their travel patterns and demographic characteristics through an online survey via telephone
When: Fall 2019
Contact: TransportationPanelSurvey@vancouver.ca
2018 summary report (10 MB)
Recent developments with this initiative
Congestion Management Strategy
The Congestion Management Strategy , adopted by council in 2017, provides direction on identifying and monitoring congestion, developing strategies to address impacted areas, and tracking progress and results. (1 MB)
Transportation panel survey results
The reports show how far we've come to meeting the mode share goals of the Transportation 2040 Plan and Greenest City Action Plan.
Active transportation promotion and education
July 29, 2016 – The Active Transportation Promotion and Enabling Plan (ATPEP) looks at non-infrastructure based approaches to increasing the number of people who walk and cycle to their destinations.
Annual transportation panel survey results
May 4, 2016 – Staff updated Council on the results of our transportation panel survey. Both show how far we've come to meeting the mode share-goals of the Transportation 2040 Plan and Greenest City Action Plan.
Walking and cycling safety update
June 12, 2013 – Staff provided Council with an overview of recent transportation trends, and gave an update on improving safety for people walking and cycling.
Improving local transit
May 29, 2013 – Staff updated Council on local transit improvements, the Stanley Park Causeway, and allowing taxis to use bus lanes.
Improving the False Creek Bridges for people walking and cycling
April 24, 2013 – Staff updated Council on plans to improve the False Creek bridges for people walking and cycling, in coordination with required maintenance and rehabilitation.
Transportation 2040 Plan approved by Council
October 31, 2012 – After two years of extensive consultation with the engagement of over 18,000 citizens, Vancouver City Council voted today to approve the new Transportation 2040 Plan, an ambitious and balanced framework for Vancouver's transportation future.
Transportation 2040 Draft Plan presented
October 30, 2012 – Staff presented the plan at the regular City Council meeting at 9:30am, followed by a meeting of the Standing Committee on City Finance and Services at 1:30pm.
Phase 2 consultation summary
August 7, 2012 – During the Transportation 2040 Phase 2 consultations in June and July 2012, over 10,000 people participated through public events, community and stakeholder meetings, an online questionnaire, social media, and email. In general, there was strong support for the City of Vancouver's draft transportation policies and actions.
Presentation to City Council
May 29, 2012 – The transportation plan team gave an update to Council. View the update in the Documents tab.
Plan implementation reports to Council
Plan documents
Transportation panel survey reports
Public engagement documents
How we implement the plan
Many of the actions outlined in this plan require more detailed study and consultation. Given limited resources and practical constraints, achieving our goals requires us to prioritize our efforts and explore innovative funding and design solutions.
Guiding principles
The following principles are intended to help set priorities and guide implementation of the plan:
Invest wisely: Prioritize investments where the greatest benefits can be achieved.
Think big picture: Prioritize projects that achieve multiple transportation benefits, such as improved mobility and safety, or have added value beyond transportation.
Be opportunistic: Minimize costs and disruption by coordinating transportation improvements with other work projects.
Innovate: Use low-cost pilot projects to test new ideas and approaches. Embrace new transportation- and information technologies that help achieve our goals and improve efficiency.
Monitor, learn, and adapt: Monitor results, learn from our experiences, and adapt policies and approaches as necessary.
Work together: Collaborate with partners on projects that span municipal boundaries or have regional significance, or provide benefits that cross sectors.
Involve and empower citizens and local businesses: Engage with nearby residents, businesses, and other stakeholders when developing and implementing projects to foster constructive dialogue, unleash creativity, and inspire positive action.
How we track our progress
Monitoring and evaluation are essential to help us understand whether we are making progress towards our goals and generally headed in the right direction.
By asking the right questions and collecting the right information, we can understand trends, respond to changing circumstances, and better predict the relative impacts of various investments.
We can learn from our experiences and adjust our actions accordingly. Through recent initiatives, we have already started more rigourous monitoring of infrastructure performance. This ensures accountability and responsiveness in a changing world, helping us make sound decisions that support our long-term goals.
Working leading up to this plan
The City and our partners have been working together on transportation issues through a number of related plans.
Regional and provincial governments
TransLink sets regional priorities for transportation and Metro Vancouver for land use planning. In 2008, the provincial government outlined its support for regional transit investment, including the UBC Line.
Metro Vancouver: Regional Growth Strategy (2011)
TransLink: Transport 2040 (2008) and Transport 2045 (in development)
British Columbia: Provincial Transit Plan (2008) and Climate Action Plan (2008)
Neighbouring municipalities
Vancouver's neighbours have transportation plans that speak to increasing travel by foot, bicycle, and transit, though they vary in focus, approach, and scale. Vancouver's transportation network connects to the north and south via five road bridges (managed by various agencies) and dedicated rail and ferry links. Numerous streets connect to the east and west.
District of North Vancouver: Transportation Plan (2012)
District of West Vancouver: Strategic Transportation Plan (2010)
City of North Vancouver: Long-Term Transportation Plan (2008)
University Endowment Lands: Official Community Plan (2005)
Burnaby: Transportation Plan (2004)
Richmond: Official Community Plan – Transportation (1999, update in 2012)
Institutional partners
Both Port Metro Vancouver and Vancouver International Airport are planning to increase their freight and passenger capacity. The University of British Columbia's Point Grey campus relies on direct and reliable transit connections.
Port Metro Vancouver: Port 2050 (2010)
Vancouver International Airport: Your Airport 2027 (2007)
University of British Columbia: Strategic Transportation Plan (2005, renewal ongoing)
Previous City of Vancouver transportation plans
Transportation 2040 succeeds Vancouver's 1997 Transportation Plan, which recognized that the city's future did not lay in road expansion. Other transportation related plans supplement this work.
Downtown Transportation Plan (2002)
Bicycle Plan (1999)
Transportation Plan (1997)
Greenways Plan (1995)
Related projects
Learn how we're making walking and cycling safe, convenient, comfortable, and fun through marketing campaigns, school-based programs, and user education.
Greenest City is a bold initiative that addresses Vancouver's environmental challenges.
The Healthy City Strategy a long-term, integrated plan for healthier people, places, and planet.