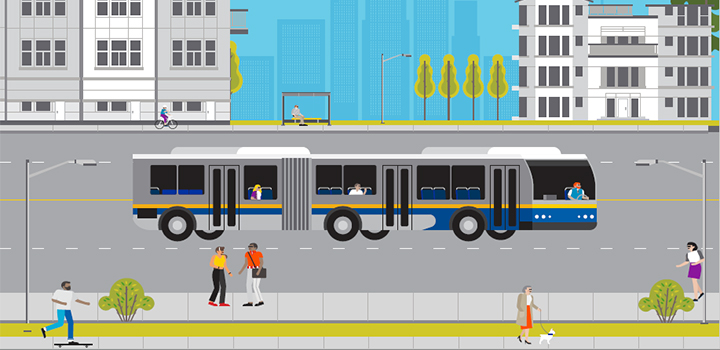 R4: 41st Ave RapidBus
As part of the 10-year Vision for transportation in the Metro Vancouver region , we're partnering with TransLink to facilitate a new RapidBus bus service along 41st Ave from Joyce-Collingwood Station to UBC.
41st Ave is a key east-west arterial and the second busiest transit corridor in the region after Broadway. Once in service, the new RapidBus will have the capacity to move up to 4,400 people per hour during rush hour, connecting to the Expo Line, the Canada Line, Oakridge Centre, Kerrisdale, and UBC.
Our role
We've partnered with TransLink to identify and implement changes. With limited street space, the changes aim to give buses priority while balancing various, localized needs along the corridor.
These changes include:
Implementing bus priority lanes
Parking removal and restrictions along sections of the corridor when travel capacity is needed most
Installing left and right turn bays at key intersections
TransLink's RapidBus supports the our Congestion Management Strategy to ensure a smart and efficient transportation system. (1 MB)
Benefits of bus priority lanes for transit users
Reduced transit journey times
Increased reliability
What's happening
We've started construction to implement changes to the street along key sections of 41st Ave, including:
New parking restrictions
New left and right turn bays
New road markings
New and extended concrete pads for bus stops
Paving
Construction to facilitate TransLink's R4: 41st Ave RapidBus will be complete in late summer 2019.
Contact the project team