Print
Cycling in Vancouver
Cycling is one of the cleanest and most energy efficient forms of transportation and the number of people choosing to cycle continues to grow every year.
Much of this growth comes from our support for green transportation initiatives to make cycling and walking more safe, convenient, and comfortable for people of all ages and abilities.
Expanding the bike route network is an important strategy in our effort to reduce traffic congestion to become more sustainable.
Our initiatives
By expanding and upgrading our cycling network, we are increasing cycling comfort and encouraging more people to ride their bikes.
We launched Mobi, a network of shared bicycles available for short-term use for a fee.
We use marketing campaigns, school-based programs, and road user education to promote cycling and walking.
We install bicycle racks and corrals on public property around Vancouver, as do businesses on their properties.
We encourage event planners to promote cycling and walking by providing bike valet parking and promoting public transit options at events.
Get cycling information
Skateboard in protected bike lanes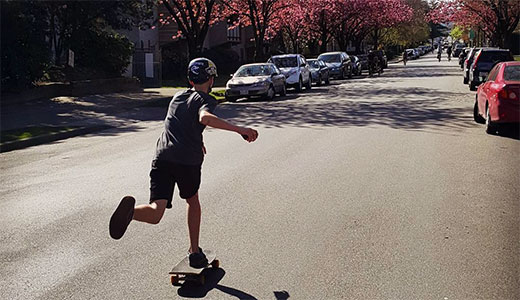 In November 2017, Council approved that skates, skateboards, and push-scooters be permitted in protected bike lanes.
Protected bike lanes are physically separated from motor vehicle traffic by barriers such as concrete medians, planters, and vehicle parking lanes. Before this pilot, skateboarding was only allowed on local streets (without painted lane lines).
Read the bylaw for this pilot program

(183 KB)
Follow Bike Vancouver on Facebook
Proposed cycling investments
In our draft capital plan for 2015-2018, we propose adding to, completing, and upgrading parts of Vancouver's cycling infrastructure. It's part of our proposed $150-million investment in transportation. We hope these improvements will help make cycling your preferred way to get around.
Learn about the proposed cycling investments