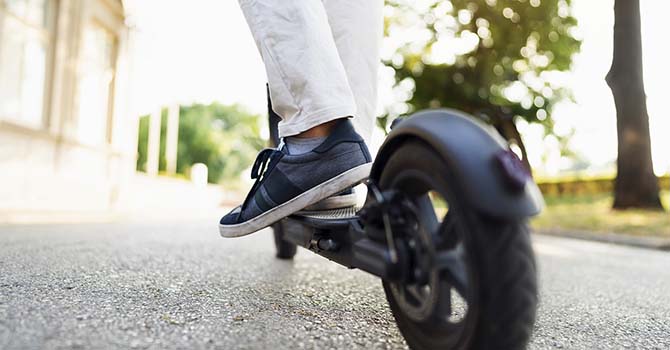 E-scooters
Electric kick scooters are a new way of getting around Vancouver and connecting with transit.
The Province of BC has announced the approval of a three-year electric kick scooter pilot program with the City of Vancouver being one of six municipalities participating. The Vancouver pilot began in July 2021 after by-law changes were approved by Council.
During the pilot, electric kick scooters can be used on:
Electric kick scooters may not be ridden on sidewalks, major streets, or the Seawall.
Device requirements
The Province has requirements for electric kick scooters including:
A motor that does not move the device faster than 24km/hr
Motor power output must not exceed 500W
A braking system is needed
Lights are required if operating between sunset and sunrise
Users must wear a helmet and be 16 years of age or older
Electric kick scooters by-laws are enforced by the Vancouver Police Department (VPD). To report the misuse of electric kick scooters, contact the VPD's non-emergency hotline.
The Vancouver pilot does not include any type of rental or shared electric scooters. Other electric micro-mobility devices that do not meet the Provincial definition of an electric scooter including hoverboards, Segway PTs, one-wheels, monowheels, and others are also not included in this pilot.
Provide feedback on the electric kick scooter trial by contacting the City or emailing newmobility@vancouver.ca.
Skateboarding, rollerblading, and push scooters in Vancouver
Skateboarding has been around since the 1950's and has undergone a constant evolution into the variety of styles that can be seen today. Skateboarding as a mode of transportation is becoming an increasingly popular way to travel actively in Vancouver for people of all ages and backgrounds. Similarly, rollerblades and push scooters have also become popular methods of transport used by many people in Vancouver.
In 2003, Council first allowed skateboarding, rollerblading, and push scooters on local streets. In 2015, Council piloted an amendment to the Street and Traffic By-law to expand the locations these devices are permitted. Council made this change permanent in 2017.
Today, skateboarding, rollerblading, and push scooters can be used on:
Local streets
Protected cycle lanes
Shared paths where bikes are allowed
Our School Active Travel Planning program is piloting a low-barrier program with Chill Foundation for high school students to learn the basics of safe skateboarding. Several Vancouver organizations have education and encouragement programs.
Get skateboarding information