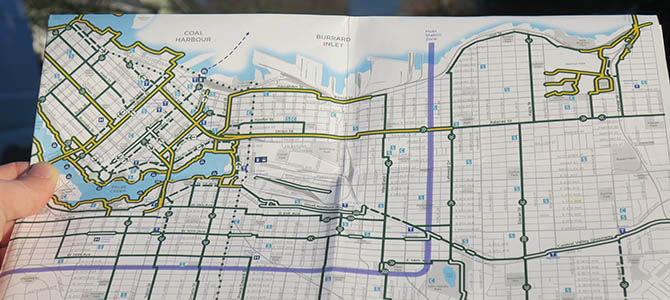 Cycling routes and maps
COVID-19 update
November 10, 2020: Due to the increasing cases of COVID-19, we're temporarily suspending the pick up of printed bike maps at our Crossroads and City Hall locations. Check back for when in-person bike map distribution is available again.
Download a bike map (6 MB)
One of the most convenient and affordable ways to get around town, and to experience our unforgettable scenery, is by bicycle.
In addition to our extensive network of designated bike routes, you can ride your bike on almost all Vancouver streets.
The Transportation 2040 Plan sets the bar even higher for making bike routes more convenient, comfortable, safer, and fun for people of all ages and abilities.
Plan your route with our cycling map
Our annual cycling map details all bikeways and greenways in the city. It uses different line styles to highlight the most comfortable routes for people of all ages and abilities, and explains bicycle traffic signs used in Vancouver.
Download the cycling map (6 MB)
Get the map in person at:
City Hall information desk (453 West 12th Avenue, Ground Floor, open Monday to Friday, 8:30am to 5pm)
Engineering Services (507 West Broadway, 5th Floor, open Monday to Friday, 8:30am to 5pm)
Vancouver Public Library branches
Vancouver Park Board community centres and pools
Biking events
Bicycle shops
Biking in our region
If you ride your bike into or out of Vancouver, look into the maps maintained by TransLink, the regional transportation agency that operates Vancouver's transit system.
TransLink cycling maps

Need more than a few bike maps?
Request 50 or more bike maps for your bike shop, school, community group, event, and tourism organization.
Plan your bicycle trip
Find out about Vancouver's protected bike lanes – how they work, where they are, and how often they get used.
We install bike parking throughout Vancouver. Learn about our types of bike parking and how to request new bike parking.
Find out how to set up and use a secure bicycle parking service to encourage concert-goers, sports fans, and others to ride their bike to festivals and community events.