First Nations art and totem poles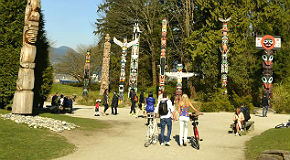 "People Amongst the People" Coast Salish gateways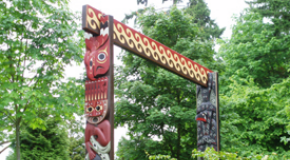 Three beautifully carved, red cedar portals welcome visitors to the Brockton Point Visitor Centre and to the traditional lands of the Coast Salish people. Their form represents the traditional slant-roof style of Coast Salish architecture. The gateways show the history and thriving modern culture of Coast Salish people.
Constructed over three years and installed in 2008, the gateways were created by Coast Salish artist Susan Point, in collaboration with Coast Salish Arts; Vancouver Storyscapes (a City of Vancouver Social Planning project to encourage Indigenous people to share their stories through a variety of media); the Musqueam, Squamish, and Tsleil-Waututh First Nations; and the Vancouver Park Board.
Learn about the gateway designs in Susan Point's artist statement
Totem poles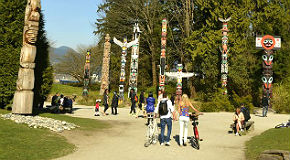 The nine totem poles at Brockton Point are BC's most visited tourist attraction.
The collection started at Lumberman's Arch in the 1920s, when the Park Board bought four totems from Vancouver Island's Alert Bay. More purchased totems came from Haida Gwaii (Queen Charlotte Islands) and the BC central coast Rivers Inlet, to celebrate the 1936 Golden Jubilee. In the mid 1960s, the totem poles were moved to the attractive and accessible Brockton Point.
The Skedans Mortuary Pole is a replica as the original was returned home to Haida Gwaii. In the late 1980s, the remaining totem poles were sent to various museums for preservation and the Park Board commissioned and loaned replacement totems.
The ninth and most recent totem pole, carved by Robert Yelton of the Squamish Nation, was added to Brockton Point in 2009.
Raven: Spirit of Transformation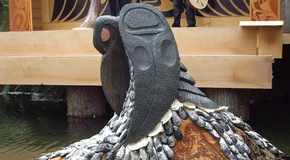 After the windstorm of 2006 that devastated Stanley Park, small pieces of wood were given to local woodworkers and craftspeople.
Ninety larger pieces of wood or logs were allocated to the Musqueam, Squamish, and Tsleil-Waututh First Nations (whose traditional territory is Stanley Park) to be used in the creation of canoes, structural beams and artistic and ceremonial pieces.
Representatives of the three Nations selected their favorite pieces of wood.
One of those pieces was a Douglas fir stump, which was transformed in to a beautiful raven sculpture.
Entitled "Raven: Spirit of Transformation", the statue by Indigenous artist Richard Krentz is now on display at the Miniature Railway Plaza in Stanley Park.
Learn more about the windstorm and restoration of Stanley Park