Landmarks in Stanley Park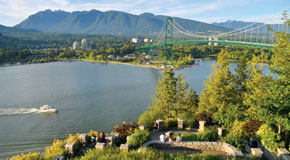 Stanley Park is home to several famous landmarks, including Lost Lagoon, Siwash Rock, Prospect Point, Beaver Lake, totem poles and other art.
Lost Lagoon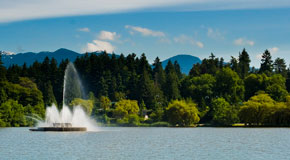 Marked by the notable Jubilee Fountain, Lost Lagoon adds to the beauty and biodiversity of the park. Acting as a bio-filtration marsh for causeway run-off through a series of holding ponds planted with rushes and grasses, the lagoon provides sanctuary to many species of birds.
Previously a tidal mud flat, Lost Lagoon became a freshwater body when the Stanley Park causeway was built in 1938.
A visit to the Lost Lagoon Nature House (operated by the Stanley Park Ecology Society) will provide information on the park's rich flora and fauna and social history. For hours of operation, visit the Stanley Park Ecology Society's website.
Siwash Rock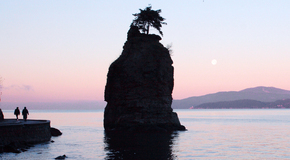 Siwash Rock is a 32 million-year-old sea stack (rock outcropping) located just off the seawall between Third Beach and Lions Gate Bridge in Stanley Park.
According to Squamish first nations legend, a man was transformed into Siwash Rock "as an indestructible monument to Clean Fatherhood" – a reward for unselfishness.
A lookout above Siwash Rock is accessible from Park Drive or Siwash Rock Trail leading from Prospect Point and Third Beach.
Hollow Tree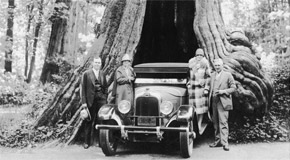 The Stanley Park Hollow Tree, a 700- to 800-year-old Western Red Cedar tree stump, has a special place in the memories of many Vancouverites and is one of the most well-known and photographed landmarks in the park. Historic photographs show people, cars, and even an elephant posing inside the tree's large cavity.
It was badly damaged by the severe windstorm in December 2006 and was slated for removal due to safety concerns. However, in 2009 concerned citizens formed the Stanley Park Hollow Tree Conservation Society and stepped forward with a plan to stabilize the tree in a project funded entirely by private donations. Following a public ceremony in October 2011, the restored Hollow Tree began a new chapter in its long history in Stanley Park.
Beaver Lake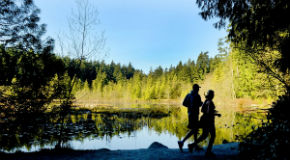 Find birds, wetland plants, and even beavers by taking a walk along the one kilometre-long pathway surrounding Beaver Lake.
The Park Board is developing a strategy to restore and protect Beaver Lake so it can continue to contribute to biodiversity in the Stanley Park forest, ensuring it is maintained in perpetuity for the enjoyment of all.
Prospect Point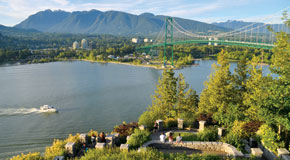 Prospect Point offers excellent views of the Lions Gate Bridge, North Shore Mountains and Burrard Inlet.
A two-storey signal station once stood atop Prospect Point to alert approaching vessels of strong tides, winds and maritime traffic. The Prospect Point Café and Gift Shop are located here.
Visit the Prospect Point Café and Gift Shop's website
Brockton Point Lighthouse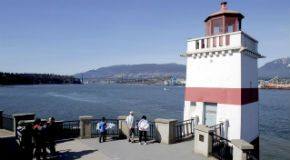 Make your way to the east end of the park to see a Stanley Park showpiece, Brockton Point Lighthouse built in 1914.
Walk along the shoreline pathway under the arches supporting the lighthouse tower, managed by the Park Board since 2006.