Print
Gardens in Stanley Park
Stanley Park has an abundance of beautiful flower gardens. Consider visiting them between spring and fall each year to see the flowers in bloom.
Ted and Mary Greig Rhododendron Garden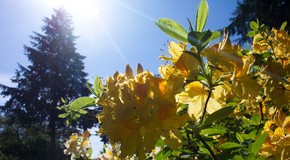 The Park Board received an extensive collection of hybrid rhododendron and azalea plants in the late 1960s.
This collection of plants came from the Royston nursery belonging to Ted and Mary Greig, who were renowned rhododendron hybridizers.
In all, about 4,500 plants are planted around the Stanley Park Pitch & Putt golf course.
The Ted and Mary Greig Rhododendron Garden is at its peak during the first two weeks of May. However, walks through the garden are always rewarding any time between March and September because there is always something in bloom.
Rose Garden and floral displays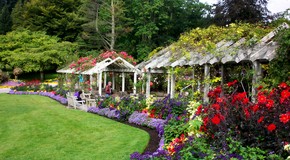 The Stanley Park Rose Garden, first established in 1920 by the Kiwanis Club, boasts over 3,500 rose bushes, as well as a stylish west coast-inspired arbour supporting a combination of climbing roses and clematis.
Floral display beds slope downward toward the causeway and extend up to the Stanley Park Pavillion, providing seasonal spectacles of colour with annuals and perennials from June to October and flowering bulb displays from March to May.
Shakespeare Garden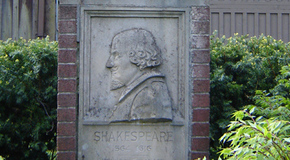 Nestled between the Rose Garden and the forest in Stanley Park, the Shakespeare Garden pays homage to The Bard.
The garden is a diverse arboretum that includes trees mentioned in his plays and poems.
There are about 45 trees that form the arboretum that accompanies the monument. Trees designated from the works of Shakespeare have been affixed with plaques that display their appropriate quotes. These Shakespeare trees are integrated throughout the arboretum for visitors to find as they explore the garden.