Print

Dog off-leash areas
COVID-19 updates
COVID-19 updates
Due to the coronavirus, we've temporarily closed the following dog parks:
Stanley Park (old shuffle board court)
Emery Barnes (fenced area)
Sunset Beach
Hinge Park (Southeast False Creek) (fenced area)
Andy Livingstone (fenced area)
Nelson Park (fenced area)
Sunset Park (fenced area)
Dogs are welcome in all of Vancouver's parks and must be on leash unless they are in a designated dog off-leash area.
Dog etiquette in parks
You are responsible for the actions of your dog. You must:
Pick up and dispose of your dog's waste
Have a valid licence for your dog

Animal Control Bylaw enforcement takes place at all parks and beaches throughout the year. If you don't follow the bylaw, you may be fined between $250 and $2,000.
Red bins for dog waste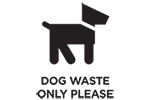 Place your dog waste in the red bins provided at select city parks.
Part of our dog waste collection pilot project.
Find a dog off-leash area in Vancouver
Dogs in parks resources
Our strategy for creating safe, engaging park spaces for people with and without dogs.
Would you like to see a positive change at your dog off-leash area? Find out how you can become an off-leash dog park steward!