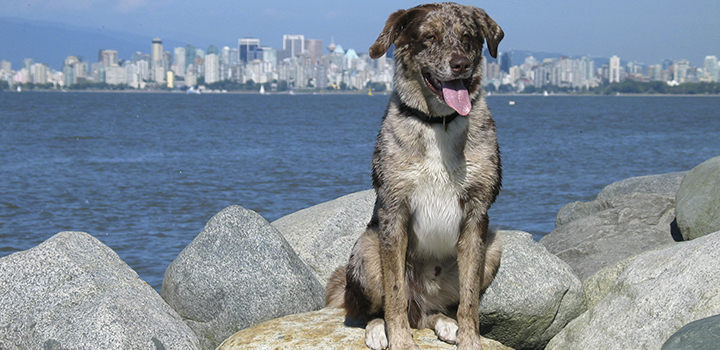 Responsible dog ownership
Owning a pet is a happy experience, but before owning a dog there are a lot of responsibilities to consider.
Before you own
All animals need attention, interaction, and room to roam. Recognize the impact of bringing a dog into your home:
Lifestyle
Prepare for a long-term emotional and financial commitment
Set aside time to be active, train, and bond with your dog
Consider household members' allergies and health conditions
Living situation
Check restrictions on pets at your home
Ensure you have adequate indoor space
Consider your surrounding outdoor areas
Selecting your dog
Choose the right pet for your personality and circumstances
Research behaviours and characteristics of each breed you're considering
The booklet Rex in the City: A dog's guide to living in the city of Vancouver has good general information about the key things to have a happy relationship with your dog.
Once you own
License your dog
Dogs three months and older must have a dog licence for identification. There are many benefits to getting your dog licensed:
97% of licensed lost dogs are returned to their owner.
If we pick up your lost dog, they will get a free ride home, once per calendar year.
Your licence fee helps our shelter care for lost and injured animals, and supports pet adoption services.
Your dog is added to the Emergency Pet Registry so emergency responders know to look for your dog in a disaster.
Statistics collected from licensing help assess the need for dog facilities and services, like off-leash dog parks.
Licensing allows Animal Control Officers to respond to emergency calls of hurt or stray animals, educate the public and enforce the by-laws.
Licensing your dog is a legal form of ownership and shows that you are a responsible pet owner.
Know your responsibilities under the Animal Control Bylaw
Under section 4 of the bylaw, you are required to keep your dog under your control at all times. You cannot allow your dog to run free on the street or in any other public place other than one of our 36 dog off-leash areas.
Your dog must be kept on a leash no more than 2.5 m (8 f) long. You must be holding on to the leash - leashing your dog to a pole or bike rack is illegal.
Visit the veterinarian regularly
Take your dog for regular check-ups and ask questions about your dog's diet, behaviour, and activity level. Ensure your dog stays up to date with vaccinations.
Spay or neuter your dog to prevent accidental breeding.
Exercise your dog
Keep your dog healthy by taking daily walks. Pick out appropriate equipment including a collar, leash, and toys. The collar should be loose enough to fit two fingers between the collar and the dog's neck.
Teach your dog basic obedience
To make for a well behaved dog, teach your dog basic commands such as sit, stay, come, and down. Socialize your dog with different people and settings.
The book Training Rex in the city: basic obedience for dogs contains a series of lessons plans for training your dog yourself. You get a free copy here, or can buy a paper copy from the Vancouver Animal Shelter or City Hall.