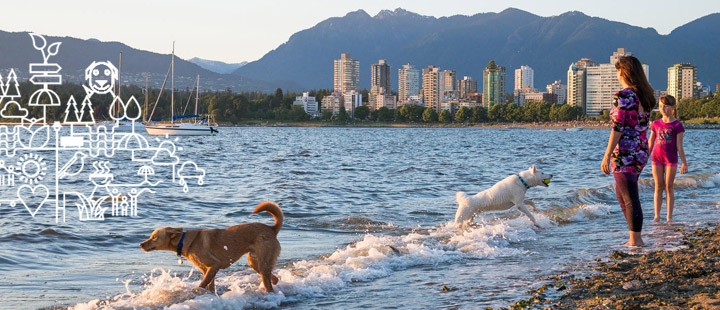 People, Parks, and Dogs: A strategy for sharing Vancouver's parks
Off-leash area renewal and proposed expansion at Emery Barnes Park
We're planning a full renewal and potential expansion of the off-leash area at Emery Barnes Park.
Round 2 of public engagement ran from April 20 to May 18 and the engagement summary is now available.
---
Proposed off-leash areas at Heather and Granville Parks
To improve access to dog off-leash areas in Kitsilano, Fairview, and Mount Pleasant, we are proposing new, fenced off-leash areas at both Heather Park and Granville Park.
Round two of public engagement ran from April 27 to May 18, and has now concluded. Staff are compiling feedback, and an engagement summary will be posted on the project pages when available.
Learn more about the
Heather Park proposal Learn more about the
Granville Park proposal
---
John Hendry Park renewal plan approved by Park Board
The John Hendry Park Renewal Plan was approved in May 2022. The plan will see the dog off-leash area remain in its current location, its boundaries will be clearly defined, and amenities added (for example, signage, dog wash station, lighting in certain areas, seating) as per the People, Parks and Dogs Strategy.
Did you know?
Dogs are only allowed at the following beaches and must be in the designated off-leash areas:
New Brighton Park (seasonal and time restrictions apply)
John Hendry Park
Spanish Banks Beach Park
Sunset Beach Park
Hadden Park (seasonal and time restrictions apply)
Get updates
Please confirm your subscription
Click the link in the email we just sent you.
Find a dog off-leash area in Vancouver
Understanding Vancouver's dog off-leash areas
Our dog population is growing and so is the demand to recreate off-leash dog areas in our parks and public spaces.
The People, Parks, and Dogs strategy reviewed what is working well and what challenges are coming up in Vancouver's off-leash areas. This review helps us identify what is most needed to support sharing limited park space and reduce conflicts.
How the strategy is guiding us
The People, Parks, and Dogs strategy (6 MB) provides a framework for the next ten years and beyond to deliver well-planned and designed parks that accommodate park users, with and without dogs.
The vision for the strategy is:
To promote the comfort and safety of all park users by fostering responsible dog ownership through clarifying rules, boundaries, and etiquette for dog off-leash activities in parks.
To integrate a variety of appealing and safe dog off-leash spaces in our parks that are easily accessed by local residents.
The recommendations fall within four themes.
What we are doing
Since the strategy was adopted in October 2017, we have been working towards implementing all of the recommendations.
Check out our current off-leash area projects around Vancouver.

Full report and supporting documents
Contact us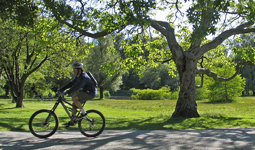 Give feedback about a park, community centre, pool, rink, or other Park Board facility.