Print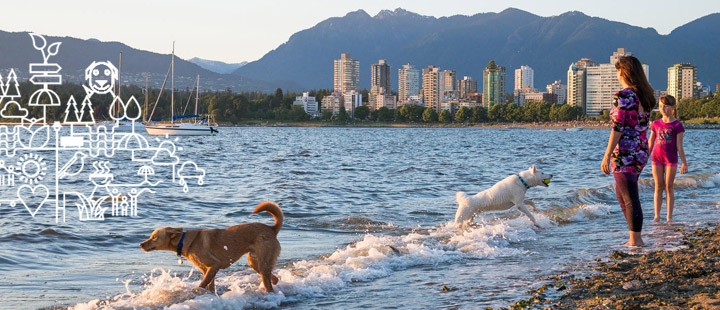 People, Parks, and Dogs: A strategy for sharing Vancouver's parks
We adopted the People, Parks, and Dogs Strategy in October 2017 to help create safe and engaging park spaces for people with and without dogs.
What's happening
Survey feedback
Thank you to everyone who shared their thoughts our new off-leash areas (OLAs) at Renfrew Community and Sunset Park.
Review the survey summary (1 MB)
Find a dog off-leash area in Vancouver
How the strategy is guiding us
The People, Parks, and Dogs strategy (6 MB) provides a framework for the next ten years and beyond, to deliver well-planned and designed parks that accommodate park users with and without dogs and minimize conflict.
The recommendations fall within four themes.
Key priorities
Through mapping and analysis , six neighbourhoods were identified in the strategy as underserved. (2 MB)
To provide equitable access across the city, priority for new or enhanced dog off-leash areas are based on combined assessments of:
The greatest number of licenced dogs
The highest residential population density
Projected population growth
The 6 neighbourhoods are:
Kitsilano
Mount Pleasant
Downtown
West End
Grandview-Woodland
Fairview
What we have done
Since the strategy was adopted in October 2017, we have been working towards implementing all the recommendations.
Check out the new, upgraded, and proposed off-leash areas throughout Vancouver.
Signage update
Feedback from the People, Parks, & Dogs strategy identified inconsistent and confusing signage.
Visit the following parks to see the first phase of updated signage:
Andy Livingstone Park
Devonian Harbour Park
Emery Barnes Park
Hinge Park
Nelson Park
New Brighton Park
Sunset Beach Dog Park
Sunset Park
Get updates
Please confirm your subscription
Click the link in the email we just sent you.
Dog signage
By City of Vancouver
Dogs at beaches
Dogs are only allowed at the following beaches and must be in the designated off-leash areas:
New Brighton Park (seasonal and time restrictions apply)
John Hendry Park
Spanish Banks Beach Park
Sunset Beach Park
Hadden Park (seasonal and time restrictions apply)
Other resources

Full report and supporting documents
View our background documents and key project information including the 2012 guidelines for off-leash areas.
Give feedback about a park, community centre, pool, rink, or other Park Board facility.