Print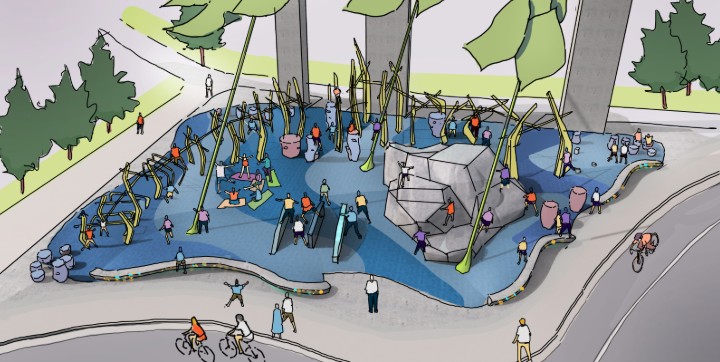 Coopers' Park is expanding
We have an exciting opportunity to expand Coopers' Park into the adjacent area under Cambie Bridge.
Developing under the bridge provides cover from the weather and the possibility for year-round use in a uniquely urban environment.
In 2018, we presented five big ideas. Based on feedback we've developed a unique, Pacific Northwest themed fitness area to support parkour and calisthenics. As part of this project we're also renewing the playground.
What's happening
2019 open house
On September 7, a second public engagement was held to receive feedback on the proposed concept for the fitness area and playground renewal at Coopers' Park.
---
2018 open house
On May 30, we held an open house about the Coopers' Park extension project.
Timeline
Here is our progress and planned steps.
May 30, 2018

Summer 2018 - spring 2019

Summer 2019

Second public consultation

Spring 2020

To be determined

Pending on seismic upgrades to Cambie St Bridge and coordination of cycling network
Contact us
Lehran Hache
604-257-8472