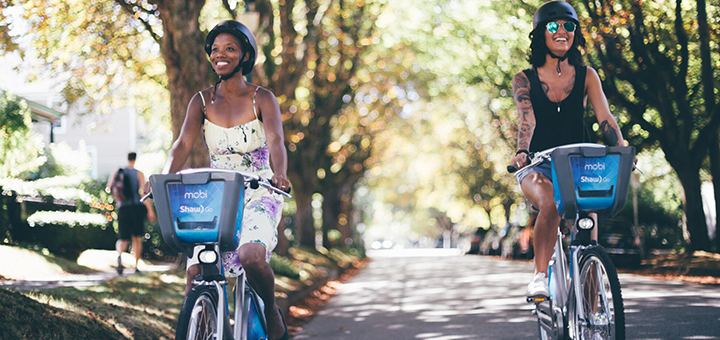 Mobi, our public bike share system
Photograph by Kateland Clarke
Vancouver's public bike share system – Mobi by Shaw Go – launched summer 2016.
With bikes located across the network at secure, easy-to-use docking stations, Mobi by Shaw Go offers a convenient, fun, comfortable, flexible, and affordable way to get around.
Mobi is available by purchasing a pay-per-ride 24-hour, 30-day, or 365-day pass . The rates are best suited for short rides, while those looking for longer rides will find better rates at local bike rental shops .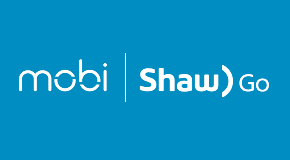 Mobi app: find and pay
Download the Mobi app:
What's happening

Mobi introduces e-bikes

In summer 2022, Mobi by Shaw Go expanded its network, adding 50 new stations and 500 e-bikes to its fleet.

The addition of e-bikes is great news for Vancouver – in other cities, e-bikes have shown to improve the gender and age balance of riders, while also supporting longer trips.
How Vancouver's public bike share system is managed
What we've learned
Source: 2021 Mobi member survey
43% of Mobi by Shaw Go members would likely not have access to a bike for transportation or recreation if bike share was not available to them.
Mobi by Shaw Go has helped 53% of members reduce their reliance on a personal vehicle. Of those members, 9% no longer drive at all because of bike share.
Before joining Mobi by Shaw Go, 24% of members never rode a bike and 22% rode less than once a month. After joining the program those percentages shrunk to 1.7% and 6.5% respectively.
Timeline
March 2009

Vancouver City Council approves a motion directing staff to explore opportunities to implement a PBS system

April 2011

City calls for expressions of interest to implement and operate a public bike share (PBS) system

June 2011

City holds a public open house about the PBS

June 2012

City staff identify Alta Bike Share, Inc. as the preferred operator, and begin negotiations

Fall 2012

Council amends bylaws to help implement the PBS system Staff hold four consultation sessions with external stakeholders to explore PBS impacts

Spring 2013

Staff continue negotiations with Alta Staff hold additional information meetings to update stakeholders

Summer 2013

Council authorizes staff to enter into a contract with Alta, provided they meet sponsorship and financing requirements

June 2015

City decides to close the expression of interest process as the City and Alta were unable to reach an agreement

July 2015

City issues a new request for proposals for a service provider to implement and operate the PBS system

February 2016

City enters into an agreement with Vancouver Bike Share Inc., a subsidiary of CycleHop

Spring 2016

City engages with stakeholders

Summer 2016

City and Vancouver Bike Share Inc. launch Mobi

November 2017

City and Vancouver Bike Share Inc. announce Phase II expansion East to Commercial Drive with an additional 50 stations and 500 bikes

April 2018

Vancouver Bike Share Inc. starts Phase II station installations

June 2018

Vancouver Bike Share Inc. starts Phase III station installations

August 2022

Vancouver Bike Share Inc. starts adding E-bikes to their fleet
Sponsor the bike share
Public bike share sponsorship opportunities are available.
Contact the bike share project team
Contact information, partner agencies, and website policies