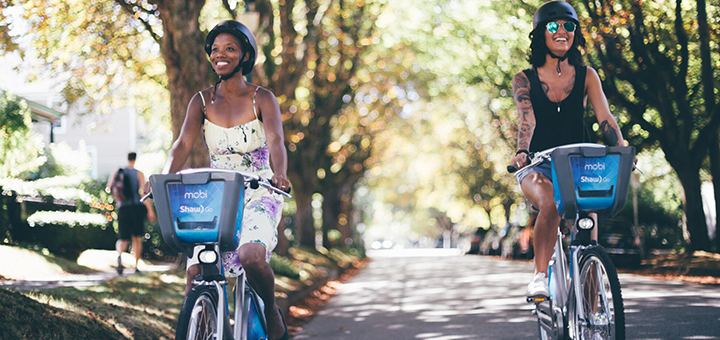 Mobi, our public bike share system
Photograph by Kateland Clarke
Vancouver's public bike share system – Mobi by Shaw Go – launched summer 2016.
With bicycles located across the network at secure, easy-to-use docking stations, Mobi by Shaw Go offers a convenient, comfortable, flexible, and affordable way to get around.
By fall 2017, Mobi by Shaw Go had 125 stations, over 1,200 bikes, and over 650,000 trips covering over 2 million kilometres.
Mobi is available by purchasing a 24-hour, 30 day, or 365 day pass . The rates are best suited for short rides, while those looking for longer rides will find better rates at local bike rental shops .
Mobi by Shaw Go is operated by Vancouver Bike Share Inc., a division of CycleHop Canada.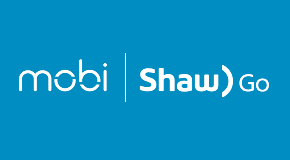 Mobi app: find and pay
Download the Mobi app:
What's happening
Mobi is expanding east to Commercial Dr
The first stations east of Main St are planned for installation this spring. The expansion includes 500 new bikes and 50 new stations.
Stations will be installed throughout the spring and are expected to be completed in summer 2018. The expansion covers the area between Main St and Victoria Dr, East 16th Ave to the south, and the waterfront to the north.
Goals of bike sharing
In addition to providing people with a healthy transportation option, public bike share systems can help:
Extend the reach of transit and walking trips
Reduce the need for personal vehicle trips
Encourage greater interest in cycling, and increase cycling ridership
A public bike share system aligns with our Transportation 2040 Plan and Greenest City Action Plan objectives of making cycling a viable, sustainable transportation option.
What to know as a rider
Creating the network
In depth
Read about the progress and developments with the Mobi initiative.
Sponsor the bike share
Public bike share sponsorship opportunities are available.
Contact the bike share project team