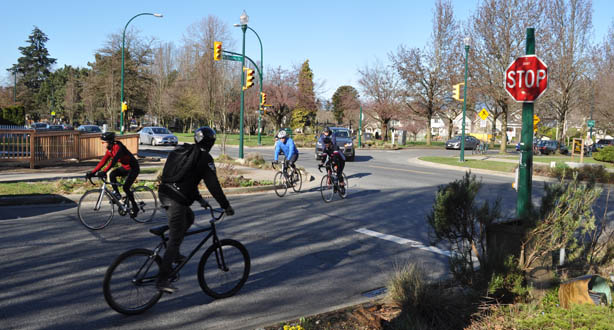 Ontario Greenway
The Ontario Greenway is a scenic walking and cycling connection featuring raised crosswalks, traffic circles, speed humps, and landscaped corner bulges to calm traffic.
Schools along the route have participated in the development of the greenway by helping plan demonstration gardens.
The street gardens at Ontario St and 27th Ave East have been planted with native species to compliment the outdoor classroom at General Wolfe Elementary School.
The children's artwork of butterflies and bugs has been etched into rocks that form part of the design.
Where is the Ontario Greenway?
The Ontario Greenway is along Ontario St, following the popular Ontario Bikeway linking False Creek to 59th Ave, and planned to connect to Fraser River, connecting parks, schools, and community centres along the way.