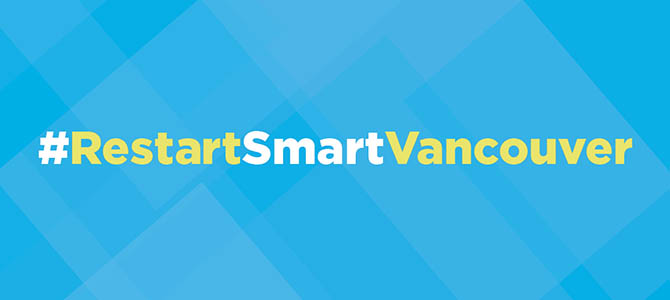 City makes more streets people friendly
Additional pop-up plaza and temporary patios approved
July 10 2020 –
To help residents physically distance and to support businesses reopening, we continue to reshape how we use our streets and public spaces.
This week, we unveiled our latest pop-up plazas, approved additional patio permits, and rolled out temporary changes to Granville Street.
Pop-up plazas
We continue to work with local businesses and Business Improvement Associations to create temporary pop-up plazas across the city to help residents safely return to community life as businesses continue to reopen.
This week, we installed additional temporary plazas in Yaletown and Mount Pleasant. The Yaletown pop-up plaza is for general use while the spaces along Main Street will support local restaurants to expand their patio space.
Helmcken Street (Hamilton Street to Mainland Street)
Main Street (10th Avenue to 11th Avenue northbound)
Main Street (11th Avenue to 12th Avenue northbound)
For more information on the plazas and to take our survey on how to improve these spaces over time, visit shapeyourcity.ca/pop-up-plazas
Granville Street pilot
As we continue to support the reallocation of public space for physical distancing and temporary patios, changes to Granville Street from Smithe Street to the bridge will be piloted throughout the summer.
These changes include reallocation of sidewalk-level parking to walking and patio space, transit stop changes, turn restrictions, and lower speed limits to ensure the safety of pedestrians and visitors to the area.
For more information, visit vancouver.ca/roomtomove
Temporary patio permits
As part of our efforts to support businesses' recovery, temporary patios allow food and liquor serving establishments to expand their indoor seating outside and maintain physical distancing requirements.
Temporary patio permits are free to local businesses and are valid until October 31, 2020.
Since launching the program on June 1, we've issued 220 patio permits. Here's a breakdown of the permits received to date:
| Status | Public patios | Private patios |
| --- | --- | --- |
| Approved | 181 | 39 |
| Under review | 10 | 15 |
| Outside scope | 84 | 0 |
| Total received | 275 | 54 |
For more information on temporary patios and a full list of approved locations, visit vancouver.ca/temporary-patio
Restart and recovery
Vancouverites continue to do a great job of reducing the spread of COVID-19 by staying home and staying put. As we we shift into recovery and restart, we are asking you to:
Stay strong – keep 2 m apart, do not attend large gatherings, and stay home if you are feeling unwell
Stay local – support local businesses and your neighbourhood
For more detailed information about the status of City services and facilities, visit vancouver.ca/covid19