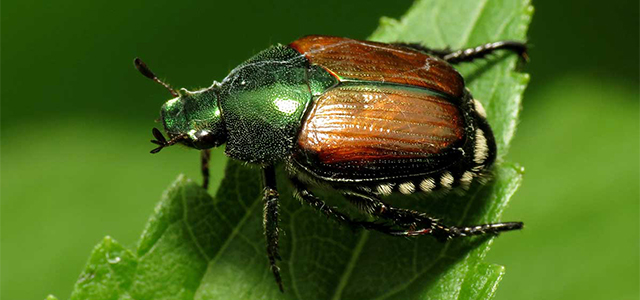 Temporary transfer station for green waste opens in False Creek
Part of integrated effort to prevent spread of Japanese beetle
June 16 2021 –
As part of our ongoing support of federal and provincial efforts to prevent the spread of Japanese beetle (Popillia japonica) in Western Canada, we have re-opened a temporary transfer station in False Creek to receive yard trimmings and plant material from the regulated area . We are urging residents and landscapers to take green waste from the regulated zone and drop it off at the temporary transfer station.
Movement restrictions for plant material and soil
Since the discovery of the Japanese beetle in False Creek in 2017, the Canadian Food Inspection Agency (CFIA) has restricted movement of plant material and soil from this regulated area. Movement restrictions for above-ground plant materials are in effect between mid-June and mid-October. Movement restrictions for soil and/or plants mixed with soil, including root balls and sod, are in effect year-round.
Residents and business owners in the regulated area should first use their Green Bin for yard trimmings. Excess yard trimmings (not food waste) can be taken to the temporary transfer station.
Landscapers who work in the regulated area can take small quantities of plant material (up to one pickup-truck load) to the temporary transfer station for disposal. Moving larger quantities of plant material outside the regulated area requires a Movement Certificate from the CFIA. Landscapers can obtain a certificate by calling 604-292-5742 or emailing cfia.wstjb-sj.acia@canada.ca. Those in non-compliance of CFIA's movement restrictions may be subject to fines levied by the CFIA.
Temporary Transfer Station
Location: 301 W 1st Avenue (at Wylie Street)
Hours: Monday to Friday, June 14 to October 15, 2pm to 6pm
Payment accepted: Debit, Mastercard, Visa, or American Express. Monthly invoicing is available to commercial customers (if required).
Find out more about the temporary transfer station, including drop-off fees
About the Japanese beetle
Japanese beetle (Popillia japonica) is a regulated insect that feeds on the fruit and leaves of over 300 species of plants. This beetle can significantly damage landscape and ornamental plants, fruit and vegetable gardens, nurseries, orchards, and agricultural crops.
Learn about the Japanese beetle and the movement restrictions in place