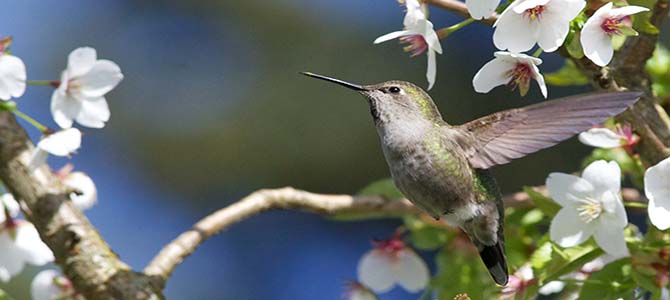 Vancouver Bird Celebration takes flight with program of workshops, talks, exhibitions, and guided walks
May 13 2022 –
Honouring the best of BC's birds, the Vancouver Bird Celebration is back with a two-week program spotlighting some of the province's most fabulous feathered friends.
Now in its eleventh year, the celebration runs from May 14 to 31, with a series of informational and interactive events across the Lower Mainland. From the amateur bird-watcher to the binocular-toting enthusiast, there's something for everyone.
Highlights
Bird Feathers and Nests - May 21
Join staff at VanDusen Botanical Garden to learn more about tropical feathers and local bird species' nests before visiting Bloedel Conservatory's exotic birds.
Photo Walk with Kerrisdale Cameras - May 28
Budding wildlife photographers can join a photo walk around Stanley Park and have their best picture professionally printed on an 8 x 10 print.
The Big Sit - May 28
Join birding experts at Stanley Park's Lost Lagoon and help identify and record the variety of birds in the area as part of a North America-wide research project.
History of the celebration
Vancouver Bird Celebration is organized by the Vancouver Bird Advisory Committee - a collaboration of non-profits, artists, and other institutions, in partnership with City of Vancouver and Vancouver Board of Parks and Recreation. Events are coordinated by the Stanley Park Ecology Society .
The event is inspired by World Migratory Bird Day, a United Nations-sponsored initiative that recognizes the importance of birds as key indicators of our environment's health. Threats leading to declining bird populations include habitat loss, urban cats, pesticides, and climate change. This celebration supports the Park Board's Biodiversity Strategy and our (5.3 MB)Bird Strategy . (2.5 MB)
The Park Board continues to support our bird population and habitats through dedicated stewardship and biodiversity programs, daylighting creeks, and creating naturalized and wildflower meadows.
Popular birding spots
Local parks such as:
John Hendry
Everett Crowley
Queen Elizabeth
Jericho Beach
Are great places to go birding in Vancouver. At VanDusen Botanical Garden, visitors can spot birds such as hummingbirds, hawks, owls, eagles, and Black-capped Chickadees, and take part in a junior birding program.
At this time of year, over 250 species of birds can be seen throughout the Lower Mainland.
Watch the newest additions to Vancouver's bird population through our heron cam