Personal training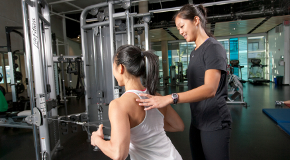 Improve your health and wellness with support from our qualified and experienced personal trainers.
Our trainers will work with you to develop a customized fitness plan designed to meet your fitness goals and fit your busy schedule.
Achieve your fitness goals quicker
Whether you are a beginner, overcoming a plateau, rehabilitating from an injury or looking for sport-specific workouts, our trainers will motivate and support you in each session.
This page has information about personal training programs at Park Board fitness centres only. Some association fitness centres also offer personal training programs. Contact the specific facility for more information.
Sign up for group personal training for as low as $20 per session
Try out our small group personal training to enjoy the same intimate coaching experience as a personal training session at a reduced cost. A small group can include you and two to three friends or family members. Training with your friends and family can help you stay on track to acheive your fitness goals with a comfortable support system, encouragement, and healthy competition.
Sessions are $20 per person when you buy 10 sessions.