Walking, hiking, and geocaching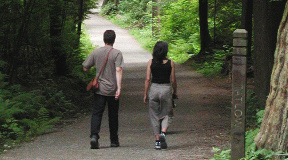 Vancouver has many scenic walking and hiking routes so put on some confortable, walking shoes and get out and explore the city.
Geocaching is a great way to discover new areas of the city, get some exercise while you walk or hike to the find the treasures. For geocaching, you will need a handheld GPS devices or a Smart phone with a GPS application. People hide boxes filled with small trinkets at various locations around the city and enter the coordinates on a Geocaching website. You search for the coordinates and follow clues to the exact location of the treasure. If you are new to geocaching, try a class at one of the Vancouver community centres.