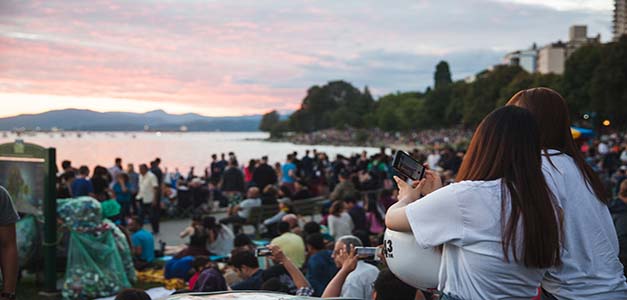 Busy season of special events and road work returns to Vancouver
April 29 2022 –
With warmer weather on the way, we are preparing for the return of many of Vancouver's signature special events and for summer construction. Through a coordinated approach, our streets will play host to special events, filming, and essential road work upgrades over the coming months.
"We are thrilled to be welcoming back so many cherished special events to Vancouver. They are an important part of fostering vibrant, thriving communities across the city, especially this year as we continue to recover from the pandemic," says Lisa Parker, Director of Public Space and Street Use. "During this busy season, our staff work hard to balance special events and filming, while accommodating the necessary upgrades to our roads, sewers and water mains."
Upcoming special events in Vancouver
*As of time of issuance.
May
BMO Vancouver Marathon - May 1
June
RBC Run for the Kids - June 12
JazzFest @ Vancouver Art Gallery - June 23 to June 27
Vancouver Half Marathon - June 25
Greek Day on Broadway - June 26
Canada Day Celebrations and Parade - June 30 to July 1
July
Jazz Fest @ Roundhouse and 100-block Drake Street - July 2 to July 3
Khatsahlano Street Party - July 9
Chinatown Festival - July 16 to July 17
Honda Celebration of Lights - July 23, 27, 30
Powell St Festival - July 29 to July 31
Pride Parade - July 31
August
Granville Promenade – August 6, 13, 20, 27
Festival of India – August 12 to August 14
Mural Fest Mt Pleasant – August 12 to August 14
Car Free Day, Denman St – August 20
Car Free Day, Main St – August 27
Taiwan Fest - August 31 to September 7
September
RBC Gran Fondo – September 10
Car Free Day, Commercial Dr – September 10
City road work and major projects
Here are upcoming and ongoing major projects for drivers to be aware of this summer:
West King Edward Upgrades: Water, sewer, and street infrastructure upgrades from Arbutus St to Dunbar St
Knight Street Renewal: Paving upgrades from E 41st Ave to E 60th Ave
West 49th Avenue Upgrades: Sewer separation and transportation improvements from Cambie St to Oak St
Joyce Street Upgrades: Water main upgrades from Kingsway to Euclid Ave
Marine Drive Upgrades: Water, sewer, and street infrastructure upgrades along Marine Dr between Oak St and Victoria Dr (currently underway)
Renfrew Street Upgrades: Sewer separation with street and transportation improvements from McGill St to E 1st Ave (currently underway)
Other significant construction
Broadway Subway Project: Phased construction along Broadway continues at the future station sites, including Great Northern Way-Emily Carr, Mount Pleasant, Broadway-City Hall, Oak-VGH, South Granville, and Arbutus. The project is on schedule for the new line to open in 2025.
Pender Street Sewer Project: Developer-led sewer upgrades from Jervis St to Bute St
For information about traffic impacts
Follow #VanTraffic on Twitter
Listen to your local radio station
Check the VanConnect app
Visit our website to plan your route before you go