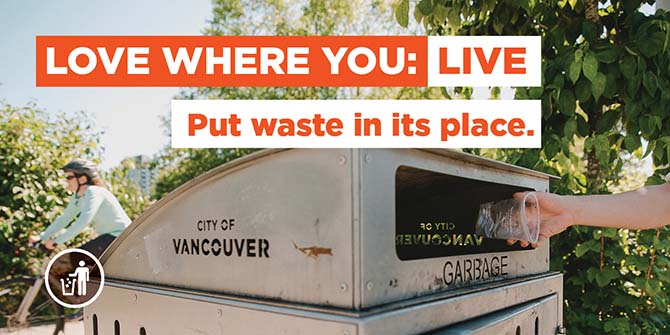 City increasing public waste collection as more people enjoy outdoor spaces
July 2 2021 –
As people across Vancouver flock to outdoor spaces to cool off and safely socialize with friends and family, our plazas, parks, and beaches are busier - and our public waste bins are fuller - than ever before.
In response, our crews have increased waste collection and street cleaning across the city, with a focus on high-traffic areas:
An additional 200+ waste bins have been installed in high priority areas such as parks and public plazas.
Crews have increased frequency of emptying waste bins (existing and new) city-wide.
Small waste bins are being replaced with larger "cart enclosure" waste bins to help reduce overflows.
Expanded micro-cleaning services, which include the daily collection of litter on foot using brooms, shovels, and wheeled garbage carts, through our Street Cleaning Grant Program.
Additional staff hired to the our street cleaning team to support expanded cleaning in high priority areas, increased flushing, sweeping and abandoned garbage collection.
Put waste in its place
To reinforce that keeping Vancouver clean and litter-free is a shared responsibility, we're launching a 'Put Waste in its Place' campaign to encourage everyone to do their part to keep public spaces and cherished parks, beaches, and green spaces litter free.
The campaign will run throughout the summer on digital and social media platforms.
Tips to help keep Vancouver clean and litter free
Don't let waste become litter: put waste in its place. Walk, bike, or roll with waste to the nearest garbage, recycling, or organics bin.
For group gatherings, plan ahead and use the "Pack-In, Pack-Out" method. Group gatherings often result in excess waste and can quickly overfill waste bins. Bring waste home with you to properly sort and dispose of it at home.
Show love for your neighbourhood by joining our Adopt-A-Block program or hosting a Neighbourhood Cleanup Party to help keep your community clean and vibrant.
Notice an overflowing waste bin? Report it via VanConnect and help us know where adjustments are needed. Our crews work around the clock to service over 3,000 public waste bins, multiple times a day. Reporting an overflowing bin helps us know what locations need additional servicing.
An additional $1.28M to enhance street cleaning services was approved by Council in our 2021 operating budget.
Learn more about our street cleaning and waste collection services or the Put Waste in its Place campaign