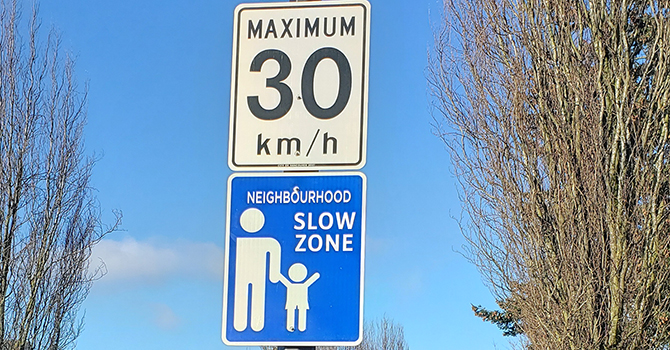 City pilots first 30km/h slow zone on local streets in Grandview-Woodland
March 3 2021 –
Starting today, we're launching a trial of our first slow zone for local streets in the Grandview-Woodland area. A slow zone is a specifically designated area with slower speeds than other streets.
The first slow zone boundaries are Clark Dr, First Ave, Commercial Dr, and Grandview Hwy North. The pilot will test an official speed-limit reduction on local streets from 50 km/h, the default speed in the city. Gateway signs, speed limit signs, and paint markings will be posted to alert drivers the speed limit is 30 km/h on local streets. Access and parking in the neighbourhood will not be affected.
Moving Towards Zero
The slow zone pilot is one of the ongoing measures we're taking to advance our Moving Towards Zero efforts to eliminate traffic-related fatalities and serious injuries.
Slower motor vehicle speeds dramatically improve safety for people walking and cycling. According to studies completed by the World Health Organization, higher speeds equal higher probability of fatality. For example, when a vehicle hits a pedestrian at 30 km/h the probability of fatality is 15%. The probability of a fatality increases to 50% when the speed is 50 km/h.
We will report back to Council in the fall with data results and public feedback received through 311, VanConnect, and the towardszero@vancouver.ca email. This pilot will provide information to design other slow zones in the City.
Background
In July 2020, Council (716 KB) approved the creation of the slow zone pilot within the Grandview-Woodland neighbourhood. The area was identified by staff as the top ranked neighbourhood based on:
Speeds
Collisions
Vulnerable populations (seniors/children/low income)
Community amenities
Walking is the top priority in our Transportation 2040 Plan, and we're working to improve the safety and comfort of our streets and sidewalks for all road users.
Find more information on the Moving Towards Zero Action Plan.