Be part of Vancouver's story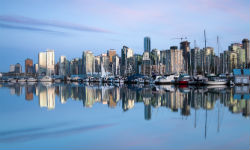 Vancouver means different things to different people.
To some, it is a beautiful coastal city. To others, it is home.
One way to better understand our identity is to look at our brand. A city's brand is the asset that makes up its reputation and image. The City of Vancouver and the Vancouver Economic Commission retained Brand Finance (Canada) Inc. to find out Vancouver's brand value.
How our brand is measured
Brand Finance used an ISO recognized Brand Strength Index to measure the strength of our brand relative to five other cities along the Pacific Rim.
The Brand Strength Index looks at the investments, equity, and economic performance of a city.
Vancouver's Brand Strength Index was in part determined by an international survey of business leaders, students, tourists, and residents.
To learn more about how Vancouver's brand is measured, read the written evidence of Edgar Baum, Managing Director, Brand Finance (Canada) Inc. . (1.3 MB)
The findings
Brand Finance found that:
Vancouver has one of the strongest brands
Our brand was valued at $31 billion as of January 31, 2015
We are uniquely associated with being clean, green and environmentally sustainable
Our identity and brand is created by the people that live, work, innovate, and play here.
Ways you can keep making our city special if you're in Vancouver