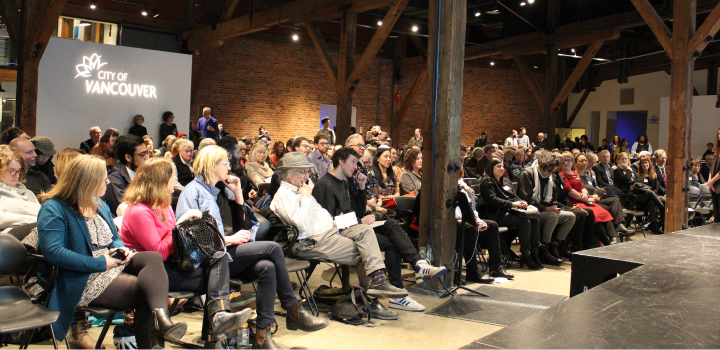 Creative City Strategy Launch Event
Get involved
Join us at our engagement events and let us know what you think about arts and culture in Vancouver.
What's happening
Share your photos
Share your photos of recent artworks and events for websites, social media platforms, print and online publications, and presentations.
Project timeline
Discovery
Fall 2017 - spring 2018
Priorities
Summer 2018
Directions
Fall - winter 2018
Recommendations
Spring 2019
Strategy updates
Read about our findings and report-backs to date.
Find out who we are collaborating with to make the strategy process possible.
Past events
June 5 and 7, 2018: Open Space engagement event
February 26, 2018: Lunar Festival audience survey
January 24, 2018: Creative City Strategy Launch Event
Focus groups
From winter to spring 2018, we held 15 focus groups to engage with different members that make up the arts and cultural community in Vancouver.
Insights and experiences informed our early findings and refined the questions we will be asking as we broaden our public engagement in the summer.
Indigenous artists
Indigenous arts and culture organizations
Racialized and ethnocultural arts
Cultural centres
LGBTQ2+ arts
Disability, deaf, and mental health arts
Arts organizations working with people living with low incomes or in poverty
Individual artists
Arts and Culture Policy Council
Grantees - cross-section 1
Grantees - cross-section 2
Grantees - cross-section 3
Creative industries
Affordability
Theatre Rental Grant users
Get updates