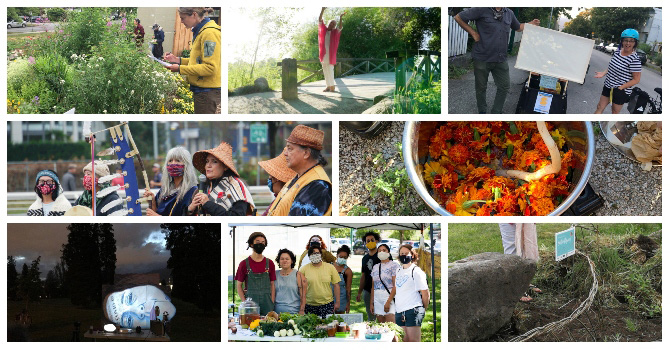 How fieldhouse residences work
The Vancouver Park Board's Fieldhouse Activation Program provides artists, community groups, and organizations with space in a fieldhouse and access to parks to create activities that engage the community.
By repurposing underused space in fieldhouses into small community spaces, this program aims to:
Animate our neighbourhoods with place-based activities focused on one or more of our priority themes including arts, culture, environment, and local food
Host events and activities in locations where people already gather
Provide space for user groups in exchange for community-engaged activities
Some of our fieldhouses have specific mandates for programming based on the neighbourhood, space available, and needs of the adjacent community centre.
Who can apply?
Artists of any discipline, cultural practitioners, ecologists, gardeners, cooks, or a combination of these
Non-profit organizations, cooperatives, collectives, or cultural groups, that focus on community-engaged arts, culture, environment, or local food projects, or a combination of these
While individuals are eligible to apply, they will need to demonstrate that they have a network of people and organizations to support them with the community engagement components. It is recommended that collectives and like-minded groups come together to apply artistic, cultural, food, or environmental themes or combinations of these themes.
The next call for applications will be in the spring/summer of 2024.
Contact us