Print
Fieldhouse programs in parks
What you'll find at our fieldhouses
By City of Vancouver
Here's a look at our program themes.
Arts

By City of Vancouver

Environment

By City of Vancouver

Garden and local food

By City of Vancouver

Social engagement

By City of Vancouver

Sport

By City of Vancouver
Come explore activities at fieldhouses located in our parks.
Vancouver Park Board's Fieldhouse Activation Program transformed former care-takers' suites in parks or underused facilities across Vancouver into active spaces for community engaged creative practices.
In each cycle artist collectives, food, greening, and environmental groups are given access to these spaces in exchange for engaging neighbours, colleagues, and curious visitors in imaginative, collaborative work in parks.
These inspiring projects lead communities into deeper conversations about living in the urban environment.
New residencies in 2019
|

As practicing musicians, Roisin Adams and Emily Best hope to inspire collaborations between musicians (from beginner to professional), stimulate the community with contemporary music and discourse, and offer accessible programming that explores sound and music for participants of all ages.

Thematic areas of interest are:

Philosophy of sound
Improvisation
Composition
Music education
Debunking piano pedagogy
Extreme musical self-expression

Their work in the fieldhouse studio project is to build on artistic and learning practices to develop music appreciation and musical collaborations with the ultimate goal of encouraging interest in music and connecting Vancouver's vibrant musical community to the community at large.

The Working Group on Indigenous Food will work to activate the fieldhouse with community-engaged arts activities, community meetings, workshops, Indigenous food systems, networking, and educational events for the Wild Salmon Caravan and Indigenous Food, and Farm School projects that they lead.

Their goal is to facilitate relationship building to better understand each other and our unique relationship to Indigenous land and food systems.

Girls Rock Camp Vancouver is a non-profit society that builds self-esteem in girls and non-binary children and youth through collaborative song writing, music creation, and performance.

By providing workshops, technical training, and space to create, experiment, rehearse, and perform, they build leadership opportunities, cultivate a supportive community of peers and mentors, and encourage social change and the development of life skills.

Creativity, positivity, and community are key elements of personal and collective empowerment and transformation.

Vines Art Festival is Vancouver's only eco-arts festival. They are committed to capturing the imaginations of new audiences and inserting creativity into everyday Vancouver spaces.

This residency will create platforms for culturally diverse local artists, performers, and community participants to create with and on the land, steering their creative impulses toward work that focuses on the environment – whether a deep love of nature, sustainability, or climate justice.

Echo Park Film offers an open invitation for a convening around community film, food, and garden.

Through an ongoing series of free public workshops and screenings, neighbours and friends will use organic materials grown in the community garden and surrounding area as ingredients to create eco-friendly films that celebrate growing, community, and connection to the urban landscape.

An important part of Echo Park's mandate is their focus on marginalized communities becoming active participants in the creation and dissemination of experimental and documentary film in order to truly share the many powerful voices and visions that make up the fabric of contemporary life.

By working with citizens and community partners, and utilizing existing assets in the neighbourhood (spaces to practice, youth as coaches, existing resources), the Moresports strategy creates the conditions to provide sports for all.

Moresports responds to the needs and diversity of the community because it's developed and run by the community.

The Alder Eco-Arts House aims to transform the Slocan Park Fieldhouse into The Alder Eco-Arts House in the Field.

The Alder would provide space and other resources for multiple groups to use for environmental stewardship and learning with a focus on ethical wild-crafting and the creation of art and functional objects with the natural and sustainable gifts found in Renfrew Ravine.

This eco-arts hub will collaborate with community partners like the Resurfacing History project and the Renfrew Collingwood Food Security Institute to increase our connections with Indigenous people and diverse youth.

This Village Vancouver residency will have a food, gardening, and environmental focus.

Happenings in the community will include:

Seed sharing libraries
Plant swaps
Pollinator and indigenous plant walks
Events about producing, preserving, and preparing food
Neighbourhood village potlucks

Other park activations will include partnerships by artist collectives like Loco Moto Art whose work has an ecological focus. Their hope is to create positive local responses to our climate change and food system challenges.

Village Vancouver has a long history of inspiring individuals, neighbourhoods, and organizations to build sustainable communities while having fun.

Media artists in Iris Film Collective create, screen, and exhibit film-based artworks, seeking to increase the visibility and accessibility of experimental media arts.

Their key interest is in working in community with celluloid film, at a time when this medium is shifting from an industrial model to an artisanal one.

Iris will host regular screenings of film work by local, national, and international artists, and offer hands-on workshops and projects for community members of all ages.

The Clinton Park fieldhouse is an intergenerational hub offering fre, year-round, community-led and community-driven activities.

Some possibilities include art activities, cultural activities, opportunities to learn digital skills, and fun with food. The Frog Hollow community hub will provide space for community collaboration and for a friendly meeting space to share community concerns or ideas.

You'll be welcomed into the relaxing, cozy atmosphere to meet and connect with your neighbours to promote friendships, and to share conversation to create a stronger sense of community identity. Our intent is to use this space to offer unique community programming.
Current residencies
|

Invasive species disturb wildlife habitat, take over our gardens and parks and even pose safety risks.

Knotweed, hogweed, European fire ant, and other local invaders affect many aspects of human life including:

Food production
Recreation
Health
Transportation
Housing
Natural resource sectors

How do they impact your life?

Help us fight the alien invasion

The Invasive Species Council of Metro Vancouver is here to help fight the alien invasion!

Visit our native plant demonstration garden and headquarters at Adanac Park Fieldhouse, check out our resources, or attend an information session to educate yourself about our worst local invaders and how you can be part of the solution.

The Contemporary Art Gallery partnership opens up opportunities for community to work with local and international artists whose practices move beyond conventional exhibition-making.

Experiments in Living is a project designed to question our surroundings and better understand the things we take for granted in our daily lives.

We hope to re-imagine objects and activities found within a typical home through a series of dynamic collaborations with artists, community members, recreation centres, and local businesses.

Led by George Rahi and Robyn Jacob, Publik Secrets is a team of musicians, fabricators, and visual artists who re-imagines public spaces as participatory gathering places.

The team works to spark wonder and play through multi-disciplinary, community-driven arts projects and events, with a focus on participation and re-uniting art with the daily life of the community.

Hastings Community Little League's vision is to become a central hub of community engagement around youth sport – for both youth and their families – that becomes a model for other sports communities in Vancouver and the Lower Mainland.

Hastings Community Little League strives to provide children with a safe, fun, and positive oriented baseball program that demonstrates the ideals of:

Good sportsmanship
Fair play
Teamwork
Dedication
Competition
Courage
Respect for others

Hastings Community Little League is a non-profit sports organization established in 1953 which provides baseball programs in five divisions for boys and girls between the ages of 4 and 12.

Come join us for family nights in the park!

Mr. Fire-Man (artist David Gowman) invites community to explore the craft of building musical instruments from local wood.

All-ages workshops, gatherings, and events will include:

Tool-making
Sustainably harvest local wood from Cottonwood Garden
Wood-curing
Horn-making
Playing and musical improvisation, with assistance from the Legion of Flying Monkeys Horn Orchestra

Mr. Fire-Man (artist David Gowman) invites community to explore the craft of building musical instruments and spoons from local wood.

Cloudscape Comics Collective, a diverse collective of over 60 members, takes advantage of Kensington's cultural diversity to promote cultural cross-pollination with sharing stories.

Stories created in workshops are incorporated in the community comics library.

Stay updated on comic-sharing, online challenges, and weekly drawing contests on Cloudscape's blog External website, opens in new tab.

Vancouver Minor Baseball Association's sports location since 1958 has been at Nanaimo Park in East Vancouver (Nanaimo & East 45th). They're thrilled to have been granted into the fieldhouse activation program in the same park.

VMBA would like to continue to create a community engaged sports hub in the neighbourhood for both youth and families to enjoy.

Vancouver Minor Baseball currently offers spring, summer, and fall baseball programs. They also offer winter clinics for local children, youth, and adults, where they teach all aspects of the game of baseball.

VMBA also runs a concession stand near the baseball fields during the season that members and neighbors can enjoy the convenience of. The concession employs local high school students with food safe and serves ball park favorites.

The food hub is a central gathering place for a thriving neighbourhood food system and food-based community activities, events, and celebrations.

Participate, learn new skills, share old skills, laugh, and eat with neighbours, while you enjoy the simple wonders of good food and community.

The food hub is a collaboration between Fresh Roots Urban Farm, Renfrew-Collingwood Aboriginal Youth Canoe Club, Renfrew-Collingwood Food Security Institute, and Vancouver Fruit Tree Project.

The food hub is a central gathering place for a thriving neighbourhood food system and food-based community activities, events, and celebrations.

Opera Opulenza is a Vancouver-based opera company founded in 2014 by artistic director Trudy Chalmers.

Opera Opulenza aims to bring a wide range of musical events and activities for the communities of Marpole and Oakridge, including free concerts, workshops, opera screenings, masterclasses, a community opera chorus, and more.

They hope to bring people together, help them build confidence through singing and movement, break social isolation, and challenge the perceived social and financial barriers of this art form.

chART: Public Art Marpole is a long-term research partnership between the community of Marpole and Dr. Cameron Cartiere of Emily Carr University of Art + Design.

chART aims to support public art and community engagement through creativity and innovation.

Their project focuses on the sustainable cultural, environmental, social, and economic impact of public art within a community.

The Potting Studio will be used to:

House garden tools and supplies
Host community meetings to discuss food literacy and education programs
Facilitate workshops

The educational workshops held in the space will reflect our garden groups' core vision to improve food security, ecological sustainability, and community development.

How we'll implement our vision

The space is located close to the Riley Park Community Garden where our vision can be implemented by:

Supporting food literacy programs
Using public spaces for skill development
Creating a hub for discussion
Ensuring that the garden green space is community-based
Working with local artists and groups on multicultural art displays and community celebrations

The Fieldhouse and Community Garden projects are supported by Little Mountain Neighbourhood House.

The Potting Studio is used to:

House garden tools and supplies
Host community meetings to discuss food literacy and education programs
Facilitate workshops

The educational workshops held in the space reflect the garden groups' core vision to improve food security, ecological sustainability, and community development.

The Merakos Fieldhouse is a collective of social entrepreneurs and creative Vancouverites hosting a variety of projects.

Find anything from yoga mat recycling to weekly drop-in tutoring.

Merakos fuses together traditional community building with innovative problem solving.

Our events

Join us at the fieldhouse for events such as:

Photography shows
Salsa nights
Community dinners

While you're visiting, check out how green products are made, or see the newest ideas emerging from our business incubator program.

Keep up to date on our happenings by popping in for a cup of tea during our opening hours, or visit our blog by selecting 'Read more'.

The Merakos Fieldhouse is a collective of social entrepreneurs and creative Vancouverites hosting a variety of projects. Find anything from yoga mat recycling to weekly drop-in tutoring.

Night Hoops has been helping at-risk youth in Vancouver since 1996.

They run a free basketball program to keep kids active and off the streets at night.

Each year, they link hundreds of boys and girls to mentors and coaches who will teach them about basketball and life skills.

Life skills workshops

Night Hoops also runs life skills workshops for youth in the community.

These workshops tackle various topics, including:

Financial tips for avoiding debt and paying taxes
Health advice on dieting and avoiding drugs
Community information on school and job resources

Events

Outside of basketball games, Night Hoops also runs events for the youth in the program.

This has included basketball clinics, nights out to watch a basketball, soccer, or baseball game, movie nights, and barbeque picnics.

Our mission is to encourage healthy life choices for youth through the context a pro-social late night program.
Parks and people: Innovative participation in public urban green space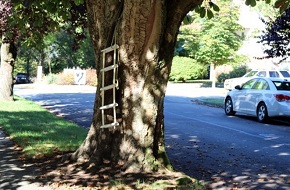 In 2016, Sue Palmer was awarded a Winston Churchill Travel Fellowship to undertake research into innovation in participation in public urban green space in three cities: Berlin, Germany, Portland, Orgeon, and Vancouver.

Learn about her travels and research
Past residency artists and projects
|

Loco Moto Art collective at Aberthau Mansion, West Point Grey

The Loco Moto Art collective developed unique indoor and outdoor arts experiences, creating with community:

Large-scale digital mosaics
Video and sound installations
Collage boxes
Digital storytelling
Real-time computer graphics displays
Live multimedia performances

Read posts, find out about events and workshops, and more on Loco Moto's blog.

---

Written on the Body at McBride Park Fieldhouse

Written on the Body represents a way of working, practicing, experimenting, creating, and collaborating between Elisa Thorn (harp & composition) and Dayna Szyndrowski (percussive dance) at Written on the Body.

"Written on the body is a secret code only visible in certain lights, the accumulations of a lifetime gather there." Inspired by this text from Jeanette Winterson, the concept began as a collaborative performance between Szyndrowski and Thorn and has since developed into a larger artistic practice that navigates the intersections of music and dance, tradition and innovation, and composition and improvisation.

Through creative work and play with community members of all ages, the pair aim to develop methods to look within in order to look outwards in art and beyond.

Read Written on the Body's blog

---

Dance Troupe Practice at Pandora Park Fieldhouse

Dance Troupe Practice is a movement based performance collective, creating work that combines dance, voice, video, and installation.

Committed to a deep exploration of the moving body and creative collaboration, they look forward to connecting community needs and interests to their own practices, to explore the connections between dance and everyday life in unexpected places.

Read Dance Troupe Practice's blog

---

Lexie Owen at Burrard View Park Fieldhouse

Lexie Owen is an interdisciplinary artist interested in sculpture, craft in the expanded field, social practice initiatives, and curatorial projects. She explores the way new understandings form when different systems of recognition collide.

From back alley walking tours with botanists to community sewing circles stitching maps and text, Owen investigates by making objects, forming societies, and intervening in public space.

Projects like the Collaborative Embroidery Society will serve as a jumping-off point for community engagement.

Lexie Owen is an interdisciplinary artist interested in sculpture, craft in the expanded field, social practice initiatives, and curatorial projects. From back alley walking tours with botanists to community sewing circles stitching maps and text, Owen investigates by making objects, forming societies, and intervening in public space.

Learn more

---

Vancouver Society of Storytelling (VSOS) at Slocan Park

VSOS has a strong history of community engagement, bringing diverse groups of people together through the power of stories, from folktales and fables to personal narratives.

Over their 20+ year history they have worked with First Nations communities, schools, seniors groups, environmental organizations, and others to seek out and celebrate story exchange.

VSOS preserves the ancient art of oral storytelling while embracing opportunities to reach new audiences through community engagement.

Read VSOS's blog

---

The Vancouver B Movie Factory at Moberly Park Fieldhouse

Led by film producer Jimi Stewart, The Vancouver B Movie Factory works in communities to co-create imaginative social encounters that foster participation in the film and television arts.

The Vancouver B Movie Factory looks forward to creating community-based films in the studio and the surrounding park, bringing participants movie making dreams to life.

Learn more

The Bird Project at Queen Elizabeth Park Fieldhouse (2013 – 2016)

Artists Geneviève Raiche-Savoie and Jesse Garbe of The Bird Project produced socially-engaged art that raised awareness about issues concerning local and migratory birds as part of the City of Vancouver's Bird Friendly Strategy.

Visit The Bird Project blog

---

Germaine Koh at Elm Park Fieldhouse (2012 – 2016)

Germaine Koh used the fieldhouse both as a studio and as the home base for the community-based project League.
League hosted weekly gatherings for people to come together to play sports and games they invented. It was problem-solving as play.

Visit Germaine Koh's blog

---

Mark Haney at Falaise Park Fieldhouse (2013 – 2015)

Mark Haney, composer and double-bassist, used the fieldhouse for daily practice and rehearsal, and welcomed the public into his creative processes of both performing and creating.

Visit the Falaise Park Music blog

---

Re-Invent Project at Moberly Park Fieldhouse (2013 – 2015)

The Re-Invent Project, with social artist and painter Melanie Schambach, explored participatory art processes with local community, businesses, and service providers to create new narratives of belonging, inclusion, and health.

Visit the Re-Invent Project blog

---

The Art House in the Field Collective at Slocan Park Fieldhouse (2013 – 2015)

The Art House in the Field Collective joined Renfrew-Collingwood-based arts groups to build community through cultural, artistic, and inclusive experiences.

Visit the Art House in the Field Collective's blog

---

ten fifteen maple at Hadden Park Fieldhouse (2013 – 2015)

The collective of Rebecca Bayer, Justine A Chambers, Josh Hite, Billy Marchenski, and Kristen Roos collaborates with the community on works investigating psychogeographical relationships between local histories and forms of mapping through:

Sound
Collective recordings
Temporary installations
Performances
Screenings
Workshops
Conversations
Dinners

Visit the ten fifteen maple blog

---

Urban Weaver Project at Maclean Park Fieldhouse (2012 – 2015)

Eco-based community artist Sharon Kallis and Haida cedar weaver Todd DeVries explored with community the creative repurposing of invasive plant species as a substitute for traditional weaving materials that are difficult to harvest sustainably in the city.

Visit the Urban Weaver Project blog

---

Something Collective at Moberly Park Fieldhouse (2012 – 2015)

The Something Collective developed a community-mapping project, We Are Here, that interacted with the public using all the collective's artistic media.

These community maps drew out narratives from residents, asking what they value their neighbourhood and how they want it to grow and change.

Visit the Something Collective blog