Urban Weaver art project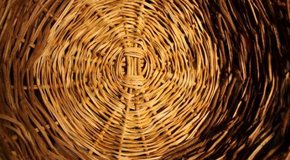 The Urban Weaver supports artists from diverse traditions working with ecologists to explore the creative repurposing of green waste.
Artists

Todd Devries (Haida)
Sharon Kallis (Welsh)
Joy Witzsche (Community Weaver)
Penny Coupland (Community Weaver)

Ecologist
Greg Ferguson, Registered Professional Biologist
Collaborating organizations
Stanley Park Ecology Society
Vancouver Park Board
Location
MacLean Park Fieldhouse,
near the Strathcona Community Centre
Goal
Use abundant invasive plants as a substitute for traditional weaving materials that cannot be sustainably harvested
Using invasive plants as weaving material
English ivy, Himalayan blackberry, and yellow flag iris hold great potential as contemporary alternatives, replacing materials such as cedar bark and cattails that cannot be sustainably harvested in urban centres.
If you want to get involved
Meet the artists during open studio times.
Participate in community workshops.
Harvest and prepare plant materials for your own personal creative projects.
Organize a group workshop at MacLean park for a maximum of ten people who are 9 years old or older.