Print
What's in our holdings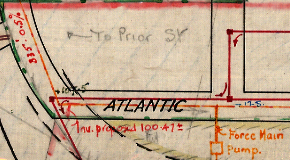 The City of Vancouver Archives acquires a variety of records that document the city's history.
When you explore what's in our holdings, these are the kinds of records that you can find.
City Government records and publications
These are records produced by the local civic government that have long-term legal, administrative, and historical value. More than 1,000 linear metres of records date from Vancouver's incorporation in 1886.
City Government publications are reports and notices published by various City departments. The Archives has more than 3,000 items dating from the 1900s to the present day.
Private-sector records
The Archives actively acquires records documenting the social, political, economic, cultural, and community life of Vancouver from non-government sources.
A fascinating history has been carefully preserved by acquiring personal papers from individuals and organizations who have generated or collected materials of significant bearing on the history of Vancouver. The donors include:
Pioneer families
Politicians
Social activists
Artists
Entrepreneurs
Community organizations
Photographs
The Archives has more than one million images from private-sector and public-sector records. These photographs portray a wide range of subjects from Vancouver's history and culture from the 1860s to the present. They bring to life the social, cultural, and economic realities of the city's past, as well as the everyday activities of generations of Vancouver's citizens.
Moving images
The Archives moving image holdings include films created by City departments, such as Engineering, Park Board, and Fire & Rescue.
The collection also includes home movies of Vancouver events and social life, and documentaries.
Maps and plans
Vancouver maps
Our holdings include over 4,000 maps, dating from the late 1700s to the present day. The maps, most of which are of Vancouver and the Lower Mainland, come from a variety of sources, both public and private. They are indexed by place, subject and date and are on microfiche for easy access.
Architectural plans
We hold thousands of architectural plans from local companies and individuals dating from ca. 1910 to the 1960s.
Fire insurance plans
We hold fire insurance plans of Vancouver from 1885 to the 1960s. A few of the plans also depict other areas of the Lower Mainland. These also are on microfiche for easy access.
Ship's plans
Our collection of ship's plans consists of over 1000 plans of commercial and private vessels who sailed local waters from the late 1700s to 1980. The plans are indexed by name of vessel, ship's architect, ship builder, company and date. These also on are microfiche for easy access.
Pamphlets
Pamphlets are printed materials documenting many of the social and cultural events that have taken place in Vancouver from 1860 to the present, and include:
Brochures
Programs
Advertising broadsheets
Political commentaries
Calling cards
Menus
News clippings
The Archives has extensive clipping files dating from the 1920s to the present. They are an excellent source of information on Vancouver:
Politics
Events
Issues
Prominent individuals
Artwork
The Archives has over 2,000 works of art on a variety of historical local subjects from 1886 to the present, including:
Oil paintings
Watercolours
Engravings
Portraits
Cartoons
Although access to some of these works is restricted for conservation reasons, researchers may view colour slides of many of them. The cartoons are available on microfilm.
Library
The Archives has a collection of over 2,500 books on British Columbia and Vancouver history, dating from the late 18th century.
These books are available for use in the Archives Reading Room only.