Business Improvement Areas (BIAs)
Mayor Kennedy Stewart has proclaimed the week of April 4 to 10, 2022, as Vancouver Business Improvement Areas Week.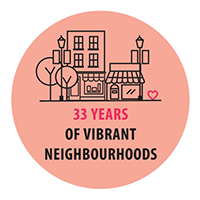 Business Improvement Areas (BIAs) are specially funded business districts.
The districts are managed by non-profit groups of property owners and business tenants whose goal is to promote and improve their business district. Vancouver has 22 BIAs.
BIAs are active in their communities, promoting:
Business
Tourism
Safety
Street beautification
Vancouver BIA partnership
The BIA partnership is the collective representing all of Vancouver's BIAs.
Resources:
City role
We help local business groups to form BIAs. Once a BIA is formed, it is managed by a volunteer board elected by property owners and tenants within its boundary.
We are involved with the annual funding process, monitor BIA budgets, and act as a liaison between the BIA and City departments.
Funding
Funding for BIAs comes from a special property tax. Each commercial property within the boundary is taxed in proportion to its total taxable value. This means that if a property owner owns one percent of the total taxable value, their share will be one percent of the BIA budget. In most lease agreements, property owners pass this cost on to the business tenants.
BIA funds are used to hire staff and run BIA activities.
Council reports related to budgets for business improvement areas
View the Council report detailing the 2022-2023 BIA budget:
BIA map
Contact us
Peter Vaisbord
BIA Program Coordinator
604-871-6304
Engineering-related questions
Aman Chandi
BIA Engineering Liaison
604-673-8058