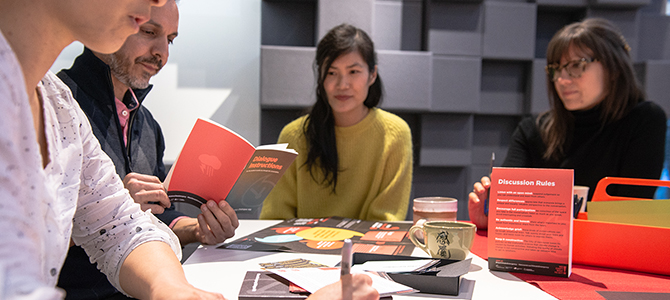 Host a dialogue
We've created Climate Emergency Dialogue kits for people who would like to talk about climate actions with their networks – whether you are connecting online or with members of your household.
The kits guide you through a conversation on the 19 proposed actions that Vancouver is considering to tackle the climate emergency, while making our city more resilient and livable for generations to come. We'll use the feedback received to help shape the Climate Emergency Action Plan heading to Council in November 2020.
Deadline for feedback is May 24
Dialogue kits
Dialogue kits have instructions, tips, and discussion prompts so that you have all you need to convene a conversation. Use the virtual dialogue survey to run one online, or download the files to use with members of your household.
Run a virtual dialogue
We designed this survey with instructions to easily walk you through a virtual dialogue. All you need to do is meet your friends on your favourite video conferencing tool, share your screen, and walk through the survey together.
Host a virtual climate dialogue
Download a dialogue kit
Discuss with people who share your home.
Hosted a dialogue?
The feedback from these dialogues will help us shape and refine the proposed actions into a bold Climate Emergency Action Plan that will be brought to Council in November 2020.
Are you a youth?
High school students in Metro Vancouver who host a dialogue and submit the feedback can be formally recognized for 2-hours of community service.
Girl Guide or Scout Canada units based in Metro Vancouver that complete a dialogue kit and submit the feedback are eligible to earn a badge (while supplies last).
Training
Need guidance on hosting a dialogue session?
Contact us
We welcome your feedback about ways that we can continue our climate engagement efforts, while also being sensitive to the immense disruption that COVID-19 is causing in people's lives, locally, and globally.