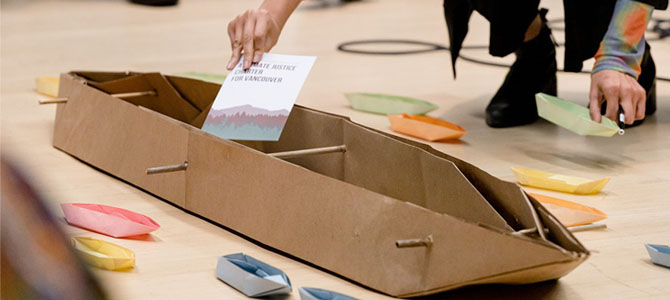 Working towards climate justice
Climate change impacts everyone but some more than others
Indigenous rights
Racial justice
Immigrant rights
Housing justice
Gender issues
Systemic discrimination and past policy decisions, including our urban and land use planning policies, have contributed to the continuing oppression of Indigenous people, racialized, and other disproportionately impacted communities.
As a result, certain communities are more impacted by issues of poverty, lack of services, and unequal opportunities. Our policies need to work to address this.
How we are responding to the climate crisis
We're using the City's Equity Framework to guide us as we work on ambitious carbon reduction policies, and we're making sure these plans are carried out equitably. This requires that: (4 MB)
Those facing the greatest impacts are represented in program development
The benefits of our climate actions are felt by the communities hardest hit by social and economic injustices
Our carbon reduction policies will be implemented equitably to help improve:
Employment
Affordability
Health
Get updates
We need your ongoing input and action, as we move forward with this bold climate plan. Sign up to stay connected on ways to get involved.
Contact us
For organizations who represent disproportionally impacted communities, contact us about the Climate and Equity Working Group.