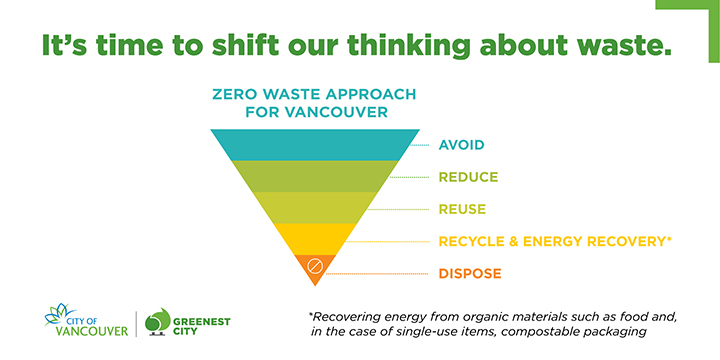 Zero Waste 2040
Our vision is for Vancouver to be a zero waste community by 2040.
Zero Waste 2040 is a long-term strategic vision for Vancouver to achieve the goal of zero waste by 2040.
It will help guide future decisions and investments relating to solid waste and provides a framework to continue the work and success of current zero waste policies and programs.
The plan includes forward looking policies and actions to help stimulate, support, and allow Vancouver to become a zero waste community. Some of these actions can be implemented right away, while some will lay the ground work to progress over time.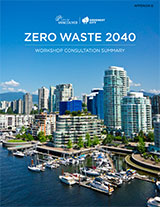 Pursuing a zero waste future
As a city we will:
Conserve resources
Prevent waste of all types, including wasted food at all points between farm and table
Compost inedible food or convert it into fuel
Repair and maintain products and materials to extend their lives
Share, reuse, and refurbish products and materials before recycling them
The pursuit also contributes to other Greenest City goals, including:
Producing renewable energy
Keeping pollution out of the environment
Ensuring everyone has access to healthy food
Diversifying and grow our economy
How we'll achieve zero waste
Zero waste strategies