Print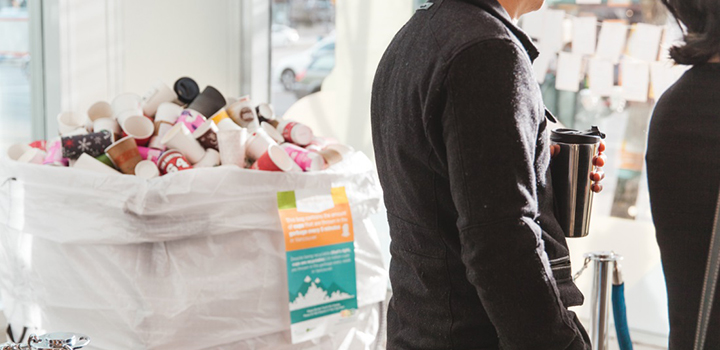 Single-Use Item Reduction Strategy
What you need to know
What you need to know
With your help, we've created a made-in-Vancouver strategy to dramatically reduce waste from single-use items.
The Single-Use Item Reduction Strategy, approved by Council on June 5, 2018, was the result of extensive consultation with over 8,000 residents and hundreds of businesses.
Our approach will reduce the impact of:
Plastic and paper shopping bags
Polystyrene foam cups and foam take-out containers
Disposable hot and cold drink cups
Take-out food containers
Plastic straws
Single-use utensils
What's happening
Coming this fall: Education campaign for ban on foam cups and containers
A public awareness, education, and outreach campaign will launch this fall to support the public, food vendors, and suppliers in the transition away from foam cups and foam take-out containers.
More details will be announced in September.
---
By-law details for bags, cups, and utensils
In November 2019, staff will present to Council the by-law requirements, enforcement, phasing, and education plans for:
Plastic and paper shopping bags
Disposable cups
Utensils
Plastic straws
To stay informed on these upcoming project milestones, including our education campaign, sign up for updates at the bottom of this page.
---
Early adopters, make the switch early on
If you're transitioning away from single-use items before the upcoming by-laws, we recommend:
Switching to reusable alternatives
Choosing materials that can be recycled through the:
Get tips for phasing out:

Accessibility recommendation: bendable plastic straws should be provided to customers who request them for accessibility. These types of straws meet the widest range of accessibility needs.
Questions? Email ReduceSingleUse@vancouver.ca
Timeline
Feb 2016

Council directs staff to report back on regulatory options for single-use items

Oct 2016

Phase 1 consultation

How to address single-use items in Zero Waste 2040

Jun 2017 to Feb 2018

Phase 2 consultation

Actions to include in a Single-Use Item Reduction Strategy

Mar to Apr 2018

Phase 3 consultation

Finalize draft Single-Use Item Reduction Strategy

Jun 5, 2018

Single-Use Item Reduction Strategy approved by Council

Jan to Apr 2019

Consultation on bylaw details and implementation plans

Apr 29, 2019

Council adopted by-law to ban foam cups and foam containers

Nov 2019

By-law requirements for plastic straws, plastic and paper shopping bags, disposable cups, and utensils to be presented to Council

Jan 1, 2020

Ban on foam cups and foam take-out containers begins

Apr 2020

Pending Council approval, a ban on the unnecessary use of plastic straws begins (requirements for accessibility and exemptions for health care facilities apply
Get updates
Contact us