Cigarette litter reduction
Discarding cigarette butts on the ground is littering and subject to a minimum fine of $100 up to $10,000 under the Street and Traffic Bylaw No. 2849.
Your waste is your responsibility. You can help protect our parks, beaches, waterways, and wildlife, and prevent fires by properly disposing of your cigarette butts in a waste receptacle, ashtray, or pocket ashtray, and by encouraging others to do the same.
Tobacco and cannabis smoking is prohibited in parks and beaches and in many public spaces, such as in transit shelters, customer service areas, and some plazas, as well as within 6 meters of a window, doorway, or air intake.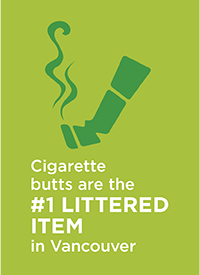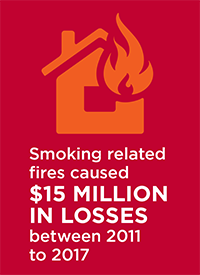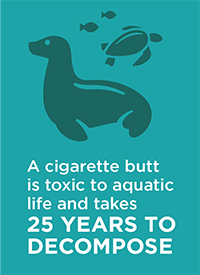 Help us maintain our outdoor ashtrays
If an outdoor ashtray is full or needs servicing, please report this to us through VanConnect.
Cigarette Butt Recycling Project
The cigarette butt recycling pilot program, the first of its kind in the world, launched in November 2013 with the installation of approximately 100 cigarette recycling bins on several blocks within four downtown business improvement areas: Downtown Vancouver, West End, Robson Street, and Gastown.
The program has since expanded to include a butt receptacle placed on the side of most of our on-street recycling receptacles.
Pocket Ashtray Pilot Program
Pocket ashtrays serve as an on-the-go cigarette butt dispenser. They are easy to use, prevent fires, protect our water, and reduce litter.
Users can store cigarette butts in their pocket ashtray until they are near a waste bin, where the ashtrays can be emptied and then reused.
We will be distributing pocket ashtrays for free, while supplies last, throughout the spring and summer as part of our anti-litter outreach efforts.
Locations where pocket ashtrays are available
Community Centres
Community Policing Centres
Vancouver Public Library
Other locations
Join or lead a litter cleanup
Neighbourhood cleanups are a fun and meaningful opportunity for residents to go above and beyond to gather friends, family, and colleagues together to, yes, pick up litter, but even more so to build a sense of community and purpose.
Contact us
Phone: 604-871-6443