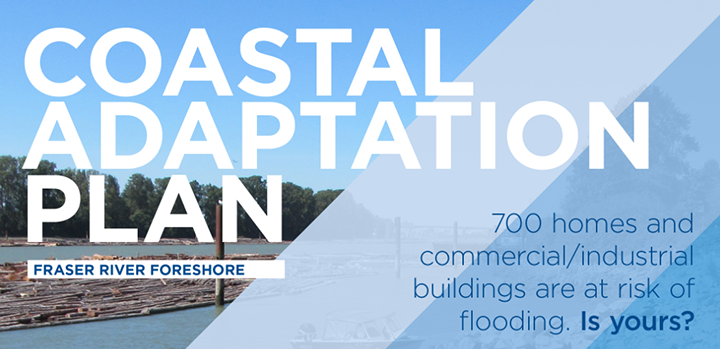 Fraser River Coastal Adaptation Plan
We are planning for sea level rise projections of about 50cm over the next 30 years, one meter by 2100, and two meters by 2200.
Parts of Vancouver within low lying areas close to the ocean and Fraser River are vulnerable to coastal and river flooding.
Climate change will increase our vulnerability to flooding due to rising sea levels.
The Fraser River Foreshore is the most at risk to flooding.
We are developing a Coastal Adaptation Plan (CAP) for the Fraser River Foreshore area that will identify solutions to reduce flood risk.
Phase 1: Engagement
We're reaching out to the Fraser River Foreshore communities, Musqueam First Nation, and businesses to build awareness and identify actions to become more resilient in the face of coming challenges.
The feedback we receive on values, guiding principles, and potential flood management options will help develop criteria to use when we evaluate potential flood management strategies for the area.
Documents
Fraser River flood risk area
The Fraser River shoreline stretches 16 kilometres along Vancouver's southern border. It is a diverse area with residential neighbourhoods, Musqueam First Nation, businesses, industry, recreation areas, and foreshore habitat areas.
Without improvements, a major flood event could impact 280 commercial and industrial buildings, damage over 400 homes, and generate over $300 million in financial losses in today's dollars.
Vancouver's three primary flood zones:
The Fraser River foreshore
Jericho Spanish Banks
Downtown, False Creek, and the Port Lands

Project timeline
Here is our process and anticipated milestones.
April 2018

Phase 1: Engagement begins

May-June 2018

Explore the Coastal Adaptation Plan

What we will do: Host educational and interactive workshops
Who we'll consult with: Small businesses, local residents, utilities, Port of Vancouver, TransLink, the Province, and Metro Vancouver

July 2018

Take a deeper dive

What we will do: Host open houses to share information about flood risk, and review and validate results from previous workshops through:

Open house activities
Survey

Who we'll consult with: Small businesses and local residents
What we'll create: A summary report of what we heard to inform next phase

January 2019

Consolidate feedback and report back to Council
Watch a video about sea level rise