Print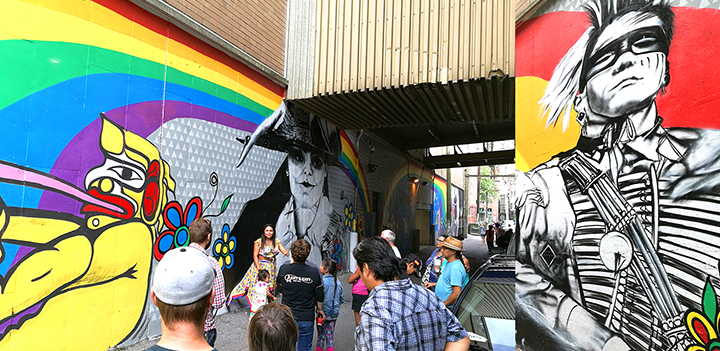 Make an outdoor mural
Murals can initiate change through public awareness, dialogue, and highlight a community's identity
The Mural Program supports murals and other two-dimensional art throughout Vancouver. We support projects initiated by community groups, artists, businesses, and building owners.
The program includes:
Providing resources and opportunities for community expression
Helping communities improve their public space
Supporting local and emerging artists
Ensuring fair representation of various identities and style of artwork
Deterring graffiti vandalism
Are you a community group or individual? Learn how we can support you and apply.
What's happening
Mural Support Program will be conducting a refresh in 2020. Applications are currently closed, watch this space for further details in the spring.
Murals around the city
By City of Vancouver
Bringing light to darkness

By City of Vancouver

Led by Indigenous artists Larissa Healey & Shadae Rose J., with the support of many youth. Supported by the City for Canada 150+.

Graffiti-style art at Strathcona

By City of Vancouver

Featuring AA Crew's DEDOS, VIRUS, and TARS, led by Nomadic Alternatives and the Vancouver Mural Festival.

Resilience

By City of Vancouver

Community mural facilitated by artists Jenny Hawkinson and Cate Laurie Wikelund. Supported by Jacob's Well, Servants, Strathcona Vineyard Church, Community Arts Council of Vancouver, and the City.

On-street mural

By City of Vancouver

One of the original on-street murals in the city at Spyglass dock, led by CityStudio students and artist Emily Gray.

RestART

By City of Vancouver

RestART, a restorative justice art program. Facilitated by the Grandview-Woodland Community Policing Centre in partnership with the City.

Graffiti at Mount Pleasant

By City of Vancouver

Project led by the Mt. Pleasant BIA and artist Ilya Viryachev with the help of youth from the Mt. Pleasant Community Centre.

Mural at Kafka's in Mount Pleasant

By City of Vancouver

By Steve Pell and Sandy Pell featured at the Vancouver Mural Festival.

Spirit of the Realms

By City of Vancouver

Completed for Canada 150+, supported by the City. Painted by artists Haisla Collins, Jerry Whitehead, Sharifah Marsden, Mehren Razmpoosh, Richard Shorty, and Vanessa Walterson.

Home at Renfrew-Collingwood

By City of Vancouver

Community mural facilitated by Kim Villagante and Aly de la Cruz Yip with the help of Collingwood Neighborhood House youth. Supported by Translink, Collingwood Neighbourhood House, and the City.

Utility art wrap programs

By City of Vancouver

Art wraps placed on utility boxes throughout the City.

Basketball court at Mt Pleasant Park

By City of Vancouver

By artist Scott Sueme. Supported by the Vancouver Mural Festival, City of Vancouver, and Vancouver Board of Parks.
Mural Support Program
The program can supply paint (up to $2,000) and help navigate the process. We can also prime the wall and provide an anti-graffiti coating.
If you are doing a mural on street pavement or a community mural, inquire through murals@vancouver.ca. Projects with high levels of engagement may be eligible for additional funding and support.
Get involved
Find opportunities for local artists including calls for public art, available studio space, and more.
Discover murals by Vancouver Mural Fest with our interactive map. More past and future murals will be included.
The festival works with artists and community groups to create large-scale murals, culminating in a street party and showcase event.
Report graffiti online
Graffiti vandalism often attracts more graffiti and should be dealt with quickly.
If you believe a mural breaks our guidelines, send us an email with a photo of the issue at murals@vancouver.ca.
Public Art policies and guidelines
Get arts and culture news
Contacts
Public Art Program
501 - 111 West Hastings St
Vancouver, BC V6B 1H4
ArtsFinder
Arts, Culture, and Environment Park Board
2099 Beach Ave
Vancouver, BC V6G 1Z4