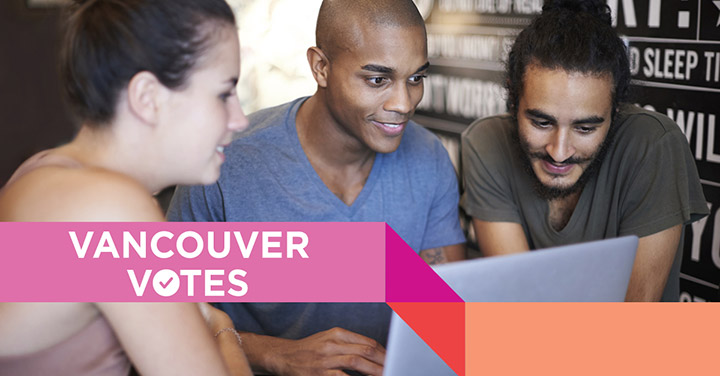 2017 candidates and parties
One councillor and nine school board trustees
View official results for the 2017 by-election.
Candidates for councillor
City Council is elected at large, meaning each councillor represents the entire city.
Together, the mayor and 10 councillors are responsible for city services such as bylaws, taxes, streets, sidewalks, and water.
|

Candidate statement

As Vice-President of Public Affairs, for Gastown-based Pace Group Communications, I help BC businesses, non-profits, associations and First Nations ensure they are heard, understood and are able to thrive. I will do that for all citizens of Vancouver.

As a father and a husband, I strive to lead by example and never shy away from doing what is right.

Our kids and grandkids' future of being able to live in the city is at stake.

My wife and I are in this race because we care that our boys, who were born here, won't be able to make a life here unless something is done now about the housing crisis.

My sincere hope is that you will give me the opportunity to work for our great city when you vote. I know we can all win, when we work together.

Thank You

Hector Bremner

Contact

Phone: 604-773-8943

Email: HBremner@pacegroup.com

Website: www.hectorbremner.com

Candidate documents

Candidate statement

Diego Cardona moved to Canada as a refugee in 2005 — and since then, has devoted his career to making Vancouver a welcoming and inclusive city.

A spokesperson for the Vancouver Foundation's Fresh Voices initiative, Diego also works at Kiwassa Neighbourhood House, managing programs for marginalized and Indigenous youth. He has also worked with the Federation of BC Youth In Care Networks, the BC Poverty Reduction Coalition, and Immigrant Services Society of BC. In 2016, he was named one of BC's Top 10 under 20 by the Globe and Mail.

Following the kidnap and murder of his father in Colombia by guerrilla forces, Diego moved to Canada as a refugee with his mother and sister. After losing his mother to leukemia, Diego and his sister were placed in the foster care system.

Diego lives in Killarney, and is running for City Council with Gregor Robertson and the Vision Vancouver team.

Contact

Phone: 604-674-5000

Email: Visioninfo@votevision.ca

Website: www.votevision.ca

Candidate documents

Candidate statement

I am running to be a fresh voice at City Hall. I've lived in Vancouver for 25 years, and I'm passionate about building a city that helps everyone to thrive.

I was born in Kelowna. My dad was Alderman Major Ray Dunsdon, so I learned military discipline and civic politics at a young age.

I own a small business called The Licorice Parlor, with two storefronts in Vancouver.

I believe our city should embrace cannabis dispensaries, which provide employment and benefit local communities.

I want to fight the fentanyl crisis with sensible solutions, like free drug-testing stations so users can make sure their drugs are clean.

I also oppose our city's current ban on ride sharing, and believe reasonable bylaws can ensure ride-sharing is safe and effective.

I want to be a fresh voice, for you, and for all those who aren't being heard at City Hall.

Contact

Phone: 604-802-7270

Email: info@votewatermelon.ca​

Website: www.VoteWatermelon.ca

Candidate documents

Candidate statement

I'm running to be your City Councillor because when I talk to Vancouverites, they tell me that they want another Green Councillor they can count on to hear them. Someone who will protect our communities, our homes, and our jobs. Someone who will listen, and put public interest first.

I believe in our city and our future. I'll fight for a new fair deal on housing. I'll put people as priority and fight to protect small business and local arts. I'll work to build a smart, sustainable city, with better governance and better government.

The Green Party is Vancouver's only elected party that doesn't take developer donations. Electing a second Green to join Councillor Adriane Carr means Green motions can be seconded and publicly debated. Public accountability and transparency are improved.

I'm offering my ideas, passion and commitment to our city. I'm ready to work hard and serve Vancouver residents.

Contact

Phone: 604-398-8854

Email: pete@petefry.ca

Website: http://www.petefry.ca

Candidate documents

Candidate statement

Judy Graves is running for City Council to speak for real people in Vancouver who have been left behind by luxury development.

Judy spent decades as the City of Vancouver's Advocate for the Homeless. She led the city's first Homeless Count, and created an outreach program that is used in over 50 communities. Judy has received the Freedom of the City Award, the Governor General's Meritorious Service Medal, and the Queen's Diamond Jubilee Award.

As City Councillor, Judy will:

Build city-owned affordable housing so people who work here can afford to live here.
Foster inclusive, diverse communities where people feel welcome and city resources benefit everyone.
End homelessness & stop the criminalization of addiction.
Put an end to "No Fun City" and make Vancouver a cultural hub.

Judy Graves is ready to serve all Vancouverites and fight to make this city vibrant, inclusive, and affordable; a city for everyone.

Contact

Phone: 604-620-4704

Email: info@onecityvancouver.ca

Website: http://www.onecityvancouver.ca/judy_graves_for_vancouver_city_council

Candidate documents

Candidate statement

His deep love for this city and the fear that his generation will be squeezed out has inspired him to run for city council and ensure that a younger generation has a place in the future of Vancouver. After graduating from UBC engineering in 2013, Gary chose to stay in Vancouver and set roots in Kitsilano (renting!) with his partner Miranda, their dog Monster and two bunnies. In his downtime Gary enjoys making artisan sausage (ask him about the infamous char siu secret recipe), sampling Vancouver's craft breweries and hanging out at Vancouver's dog friendly beaches.

Gary's three civic focus areas are:

Improving job prospects by attracting new industries and providing housing options to retain Vancouver's creative and talented younger generation
Advocate for the diverse use of public space
Providing representation for his generation at the municipal level

To learn more about Gary, visit gleevancity.com.

Contact

Phone: 604-363-1661

Email: glee.vancity@gmail.com

Website: https://www.gleevancity.com/

Candidate documents

Candidate statement

Do you want a Vancouver that is Sustainable for All?

This by-election is YOUR chance to send a clear message to council that you won't support business as usual. It's time to help get big money out of city politics and elect an Independent Voice at City Hall.

Party politics have ruled this city for too long, swinging endlessly left-to-right, right-to-left. Sometimes reflecting your wishes, often not.

Do you want an Independent thinker who listens to you, instead of following the dictates of unelected special interests? Decisions at the local level should be local and in YOUR interest.

A vote for Murphy is a vote for inclusivity, equity and social justice. It's a vote for everyone. It's a vote for you. I intend to spend my time at City Hall focusing on You.

Send a message to City Council! Vote for Your Independent Voice. Vote MURPHY, Damian J.

Contact

Phone: 778-239-6578

Email: damianmurphyvancouver@gmail.com

Candidate documents

Candidate statement

Jean Swanson is an independent candidate for City Council whose campaign is being supported by the Coalition of Progressive Electors. Swanson was awarded the Order of Canada for "her long-standing devotion to social justice." She is author of Poor-Bashing: The Politics of Exclusion. Over the past decade she has been an organizer with the Carnegie Community Action Project and Raise the Rates BC.

Swanson's policies include a freeze on rent increases; an end to renovictions; a tax on mansions worth over $5 million; the construction of thousands of modular homes; making Vancouver a Sanctuary City; ending the war on drugs; and taking steps toward free transit.

If elected, Swanson intends to be an activist City Councillor who creates space for social movements, refuses to take corporate or developer money, accepts only the average worker's wage, and stands unequivocally for the policies that she ran her campaign on.

Contact

Phone: 604-729-2380

Email: jean.swanson@gmail.com

Website: http://www.votejeanswanson.ca/

Candidate documents

Candidate statement

I Joshua have been a Vancouverite for 3 years; I reside in East Van.

This is my first time running as an independent candidate for the City of Vancouver. I am thrilled to have the opportunity to serve and represent Council as an elected official and have so much to offer from my advocacy and community experience.

I have advocated for the LGBTQ community as well as for youth in and from care. I've campaigned with MLA Melanie Mark, and sit on the Vancouver Mount Pleasant Constituency Association. Currently I'm the Co-Chair for Collective Impact's Strategic Advisory Committee and have volunteered at the Broadway Youth Resource Centre with a focus on affordable housing options for at-risk youth.

Please consider me for City Councillor, it is time for a young person to represent the most vulnerable and valuable people in this City. It is important they have their voices heard.

Contact

Phone: 778-552-6763

Email: jwasilenkoff@gmail.com

Website: www.instagram.com/joshuawasilenkoff

Candidate documents
Candidates for school trustee
The nine elected school trustees are independent of City Council.
Trustees provide education services to students in elementary and secondary schools, as well as adult learning centres.
|

Candidate statement

Joy is a retired teacher and school psychologist who holds a doctorate degree in psychology. She was first elected to the Vancouver School Board in 2014 with the Vision Vancouver education team.

Passionate about improving early learning outcomes and learning outcomes for aboriginal students, Joy is a champion for neighbourhood schools, and for maximizing the district's relationship with post-secondary institutions. As an educational psychologist in Vancouver schools for more than 12 years, Joy worked with kids with learning difficulties, helped parents and children navigate the school system, and worked with teachers to improve programming for at-risk students — particularly Aboriginal kids.

Joy is an avid volunteer, and has spent many hours with school PACs, Parent Support Services at Children's Hospital, and on the Board of the YWCA.

She and her husband Dean live in Vancouver, and have three adult sons who all attended Vancouver public schools.

Contact

Phone: 604-674-5000

Email: visioninfo@votevision.ca

Website: www.votevision.ca

Candidate documents

Candidate statement

A high quality public education system provides everyone with the opportunities and tools to be instrumental in our society's advancement and prosperity. We are all enriched when that principle is brought to fruition. I am seeking election as Trustee because it is incumbent on me as a passionate proponent of our great city to meaningfully champion that pivotal objective.

I am a lifelong Vancouverite and a proud alumna of VSB schools. My public education forged the path to my career: senior counsel for a diversified national company. Many of the skills that cause me to be effective in that role -making sound decisions under pressure and in the face of competing interests, building consensus among multiple stakeholders- position me to effectively lead the VSB.

As an independent Trustee I will have no ties to partisan politics or previous regimes. A vote for me advances strong, effective, and independent leadership.

Contact

Email: christine@electchristinearnold.com

Website: www.electchristinearnold.com

Candidate documents

Candidate statement

I was first elected Vancouver School Board trustee in 2011 and re-elected in 2014. As a 40 year veteran in education; as a trustee, teacher/counselor, secondary school administrator and a part of the District Management Team, I have always striven for excellence in delivering the highest quality teaching for our Vancouver students.My experience base of working with ESL, Downtown East-side Inner City youth, Aboriginals,in 5 secondary schools, has given me a strong insight of the issues and concerns of students,parents and teachers all across Vancouver.

I stand firm on Vancouver's need for sustainable funding from the Provincial government and will continue to work as a part of team approach to increasing and expanding funding for programs like the Band & strings & ESL related multicultural support workers that directly impacts our students and parents.

I stand for high quality educational delivery---strong fiscal responsibility and equal opportunity for all students

Contact

Phone: 604-319-2520

Candidate documents

Candidate statement

Carrie Bercic, candidate with OneCity, has established herself as a leading Vancouver public education advocate over the last 19 years.

Carrie has been active in many public education advocacy groups, including Public Education Project, Parent Advocacy Network for Public Education (PAN), Families Against Cuts to Education (FACE), and Friends of the School Library (FOSL). Since 2014 she has attended almost every board, committee, and special meeting at the VSB and she is now ready for a Trustee's seat.

As a trustee, Carrie will combine advocacy with both good governance and judicious decision-making.

Carrie believes adequately funded neighbourhood public schools are the heart of vibrant, diverse, inclusive, healthy, educated communities. By working across party lines, and fostering open lines of communication with staff, stakeholders, the provincial government, and parents, Carrie will ensure all Vancouver students have the support and resources they need to reach their full potential as learners.

Contact

Phone: 604-620-4704

Email: info@onecityvancouver.ca

Website: http://www.onecityvancouver.ca/carrie_bercic_schoolboard

Candidate documents

Candidate statement

Ken Clement is the CEO of the Canadian Aboriginal AIDS Network.

Ken, of Ktunaxa First Nation ancestry, was first elected with the Vision Vancouver education team in 2008, making him the first-ever Aboriginal person elected in the City of Vancouver.

A leader in organizations serving Aboriginal people in the Metro Vancouver region, Ken has offered executive guidance to health organizations and has been involved in the Aboriginal HIV/AIDS movement since 1998.

Ken's introduction to formal education began with a decade spent in residential school. He now works to enhance the educational system's ability to provide an opportunity to succeed for every student, regardless of where they live in the city, their income level, or cultural background.

Ken's efforts have provided a much-needed voice for the advancement of social justice, health, housing, and educational conditions for Aboriginal people.

Ken is a renter, and lives in the South Granville area.

Contact

Phone: 604-674-5000

Website: www.votevision.ca

Candidate documents

Candidate statement

Diana Day, a member of the Oneida Nation, is passionate about social justice and the health and welfare of the most vulnerable. With an Honours Degree in Psychology, she leads the program "Indigenous Women Rise" for the Pacific Association of First Nations Women. Diana worked for VCH as a Leader in Aboriginal Health for ten years and volunteered on the District Parent Advisory Council and as Chair of Van Tech PAC for three. She was on the District Aboriginal Education Enhancement Agreement Committee and represented DPAC on Student Services Committee III. Diana believes strongly in the need for adequate funding for race relations, multiculturalism and culturally safe schools.

"Reconciliation in Education is ensuring Indigenous students receive wrap around supports to graduate into Post-Secondary programs – this can be done by implementing an Aboriginal Mini School for grades 8 to 12, the VSB needs the political will to do so!"

Contact

Phone: 778-868-6510

Fax: 604-872-1845

Email: dianaday4VSB@gmail.com

Website: dianadayadvocate.wordpress.com

Candidate documents

Candidate statement

Lisa Dominato is passionate about student safety and wellness, community service, education and mental health. She is currently Chair of Vancouver's Kettle Society, a not-for-profit dedicated to helping people with mental illness.

Lisa has 12 years experience in senior political and government positions. As the Director of Student Wellness and Safety with the Ministry of Education, Lisa worked collaboratively with education stakeholders to develop public policy aimed at preventing bullying, promoting positive mental health, and fostering safe, inclusive schools throughout British Columbia. Lisa also served as Chief of Staff to the Minister of Education.

Lisa believes we can put students first and restore public confidence in a great education system through ethical leadership, good governance, collaborative decision-making, and fostering a respectful school board culture.

Lisa holds a Master of Arts in Leadership and a Bachelor of Arts in Psychology. She lives in East Vancouver with her husband and three daughters.

Contact

Phone: 778-980-4422

Email: lisadominatocampaign@gmail.com

Candidate documents

Candidate statement

Janet was first elected as a Green trustee in 2014 and served Vancouver's students with commitment and integrity. She worked hard to build and maintain good relationships with students, staff, parents, and community and government partners. Janet always made her decisions based on the best interests of students, such as not approving the 2017/18 balanced budget because students were too deeply impacted by the budget cuts and her successful motion to not sell school sites.

Born and educated in the UK, Janet has BSc and PhD chemistry degrees from the University of Bristol. After moving to Vancouver she worked as a scientist, project manager, at home parent, program administrator and trustee.

Janet has lived in Marpole for 16 years and has three teenage children, two in Vancouver's public schools and one in post-secondary education. She is active in her local community and served on school PAC executives for ten years.

Contact

Phone: 604-362-1826

Email: janetrfraser@gmail.com

Website: https://janetrfraser.wordpress.com/

Candidate documents

Candidate statement

Estrellita Gonzalez is a small business owner, author and wellbeing educator. With a BBA in Human Resources Management and 20 years of senior management and corporate experience, she provides HR and Marketing consulting. In 2012, Estrellita launched Derma Bright Clinic, a Vancouver-based wellness centre & medispa.

Estrellita is committed to supporting the wellbeing of Vancouver students and ensuring all have the opportunity to reach their full potential. As a trustee, she will work collaboratively so Vancouver's children are well-served by a district that meets their needs and creates bright futures – for students and our city.

Estrellita is BC-born, grew up in Delta, and has lived in Vancouver since 1992. Her son is a Vancouver School District student. She serves as Co-Treasurer for Eric Hamber Secondary's Studio program and as a long-time CHILD Foundation volunteer, at the invitation of the late Grace McCarthy, and served as a VANOC NOC Assistant.

Contact

Phone: 604-306-7718

Email: estrellita.gonzalez@vangreens.ca

Website: http://www.vangreens.ca/

Candidate documents

Candidate statement

A TRUE VOICE is an INDEPENDENT ONE

Born and raised in Vancouver, I am a strong champion for the vulnerable and marginalized in our City. Prior experience has been in advocacy for at-risk youth, LGBT minorities, Indigenous citizens and the poor. A few key areas of my platform are anti-bullying programs to address increased bullying in our schools, As Trustees we must address the Opioid crises sweeping the City & now affecting students and younger adults. I am advocating for the Urban Health program at St Paul's to be implemented into school curriculum. It is unacceptable to have our young students fall prey to the fentanyl crises sweeping the City. I will push for better linkages between School Board, Park Board, Community Centres and Childcare facilities. I also want to expand our focus school into an Indigenous Centre of Excellence for all students. Please vote October 14.

Contact

Phone: 604-446-2489

Email: tricia_foxx@yahoo.com

Website: http://www.ideavancouver.wordpress.com

Candidate documents

Candidate statement

Erica Jaaf, candidate with OneCity, is a lifelong social justice advocate and fighter for public education, a professional clinical data manager, and a coalition builder.

As a Trustee, Erica will work for neighbourhood public schools that are safe, inclusive, and meet the learning needs of all Vancouver children and families. She is a parent of two children who attend elementary school in Vancouver, an active member of her Parent Advisory Committee, and an advocate with the Parent Advocacy Network for Public Education.

Erica believes adequately funded neighbourhood public schools are the heart of vibrant, diverse, inclusive, healthy, educated communities, and that the need for public education advocacy doesn't end because of the Supreme Court decision on Class Size and Composition. She is committed to continuing to stand up for public education.

Erica Jaaf is ready to champion a cooperative school board that respects teachers, staff, families, and students.

Contact

Phone: 604-620-4704

Email: info@onecityvancouver.ca

Website: http://www.onecityvancouver.ca/erica_jaaf_school_board

Candidate documents

Candidate statement

Theodora Lamb is a community organizer who brings years of engagement and digital advocacy experience to the Vision Vancouver education team.

A respected consensus-builder with a collaborative approach to public education, Theodora hopes to put her community and strategy experience to work on behalf of Vancouver's students, parents, teachers, and staff. She has worked with organizations like the District of Mission, Vancouver Street Soccer League, BC Children's Hospital Foundation, Mountain Equipment Co-op, Family Services of Greater Vancouver, and BC Mental Health and Substance Abuse Services.

Theo serves on the Board of Directors for Vancity and the British Columbia Co-operative Association. She holds a bachelor of fine arts from the University of Victoria, a diploma of technology in broadcast journalism from the British Columbia Institute of Technology, and has worked as an instructor for Simon Fraser University's Continuing Studies program.

Theo lives in East Vancouver with her husband and young son.

Contact

Phone: 604-674-5000

Email: visioninfo@votevision.ca

Website: www.votevision.ca

Candidate documents

Candidate statement

Mike Lombardi has served on the Vancouver School Board since 2008, and has held roles as the Board's Vice Chairperson, and Chairperson.

Mike is known for his unwavering advocacy on behalf of Vancouver's students, teachers, staff, and parents. He and Vision Vancouver's determination to fight for safer schools resulted in more than $300 million in additional funding for seismic upgrades and new school construction.

Mike served in the public education system for 35 years as a teacher, teacher educator, and professional development expert. He is a leader in the Italian community, serving on the Board of Directors of the Italian Cultural Centre, and is President of the Basilicata Association of Vancouver.

A longtime Vancouver resident, Mike attended Vancouver public schools and holds a masters degree in Education from the University of British Columbia, and a bachelor's degree from Simon Fraser University.

Mike has three adult children, and lives in Kitsilano.

Contact

Phone: 604-674-5000

Email: visioninfo@votevision.ca

Website: votevision.ca

Candidate documents

Candidate statement

When it comes to Vancouver's education system, diplomacy, mediation and leadership are vital. Rob McDowell is someone who possesses these qualities and his background is a testament to that.

For many years, Rob worked as a diplomat representing Canada overseas. Since returning home, he has worked as a mediator and adjudicator, an international education consultant, and a promoter and supporter of the arts.

Rob is passionate about education. He's adamant the school board be truly non-partisan with a focus on putting the needs of students before politics. If elected, his mediation and diplomatic skills will ensure that steady, strong and effective leadership returns to the governance of the VSB.

Rob has been appointed twice to the City of Vancouver's LGBTQ Advisory Committee, and he will stand up to bullying, at any level, in the Vancouver educational system.

Rob resides in Yaletown with his partner.

Contact

Phone: 604-618-0972

Email: robert@mcdowells.ca

Website: www.robertmcdowell.ca

Candidate documents

Candidate statement

As a former Representative on the Vancouver School Board's Management Coordinating Committee and Valedictorian of the Magee Secondary class of 2014, Adi will bring to the Board of Trustees the unique perspective of a recent graduate of the Vancouver public school system. Her warmth and approachability are well-known. The cutting of the Elementary Band and Strings program was a devastating loss to Vancouver students and Adi will work tirelessly to bring it back. Moreover, she believes we must expand the French Immersion program - our children's education shouldn't depend on a lottery system. Adi will increase neighborhood involvement in the policy-making process; she will attend PAC and Student Council meetings Eastside-to-Westside. Additionally, Adi will bridge the gap between students, parents and policy-makers. A vote for Adi is a vote for change: for a fresh, energetic, and independent voice putting our students first. Pick Adi.

Contact

Phone: 778-847-5160

Email: adi.pick@outlook.com

Candidate documents

Candidate statement

Mark twain once quipped that we shouldn't let our schooling interfere with our education. I am running in this spirit of reform, to re-imagine our k-12 system and work towards excellence. A system where every child is supported, with a helping hand for those in need and an extra ladder for the gifted, a more modern curriculum, a healthier learning environment, and stronger resources.

My priorities are to expand the language offerings in every school, including Mandarin and Punjabi, create a new stream for the gifted, tackle bullying, complete seismic upgrading, and serve as an inclusive and open representative to parents and educators.

I hold an Msc in Mathematics from Oxford University, work as a teacher, and served a term in the University of Toronto Governing Council. My Alma mater is Lord Byng Secondary. I am running with the NPA, a party with strong roots in evidence based policy.

Contact

Phone: 604-618-8342

Email: jorgejulianprieto64@gmail.com

Website: https://www.facebook.com/jorgejulianprieto/

Candidate documents

Candidate statement

Christopher is a Chartered Public Accountant, community volunteer and gift planner who assists donors to achieve their philanthropic dreams.

Richardson was a Vancouver School Trustee 2014-2016 and Chairperson in 2015.

He served 3 terms as a Vancouver Park Commissioner. For 44 years, he has served as a Vancouver Police Traffic Authority Constable. Awarded a Diamond Jubilee Medal by Vancouver East MP Libby Davies. He is married with 2 sons, is a half marathon walker, cyclist and is learning Mandarin, albeit slowly.

Once elected again, I will:

ensure that Kids are always first,
re-establish a tone of respectful support, civility, creativity, cooperation and collaboration amongst all Trustees, staff and all our many partners,
continue advocating for those with special needs,
ensure that we have the resources & facilities that we need, now and for the future,
and to
work to better integrate schools into our neighbourhoods.

Contact

Phone: 604-218-0981

Fax: 604-731-4781

Email: chrisgiv@direct.ca

Candidate documents

Candidate statement

Allan Wong was first elected to the Vancouver School Board in 1999, and has been re-elected in each subsequent election.

Allan has earned a reputation for being a fierce advocate for student safety, having served as Chair of the Planning and Facilities Committee that initiated Vancouver's seismic school upgrades. A long-time advocate for public education, Allan's commitment to supports for ESL and special needs students, and improving Aboriginal graduation rates, have earned him the trust of parents, teachers, and students alike.

After completing his bachelor of arts, Allan graduated from UBC's Multicultural Teacher Education Program, taught in Vancouver-area public schools for five years, and then began a career TELUS, where he has worked for more than 25 years.

A proud father of four, Allan lives with his family in South Vancouver, and is an avid cyclist.

Contact

Phone: 604-674-5000

Email: visioninfo@votevision.ca

Website: www.votevision.ca

Candidate documents

Candidate statement

Dr. Judy Zaichkowsky was born and raised in Vancouver. She attended Sir Guy Carleton Elementary, Killarney Secondary, and U.B.C. Her graduate work was in Consumer Studies at the University of Guelph and her Ph.D. in Marketing with a minor in psychology and statistics. at UCLA. Her professional career started at the VSB, teaching Home Economics at Point Grey and Templeton Secondary schools. Judy is currently Professor of Marketing in SFU's Beedie School of Business. She served on the SFU Board of Governors for five years, and recently as Associate Dean of faculty and research. She has been a Big Sister and supportive of the Minerva Foundation. As a trustee, Judy will work cooperatively to improve the health, safety, social well-being, and intellectual pursuits of students. She also recognizes the importance of teacher well-being in the education equation and is dedicated to happy productive learning environments.

Contact

Phone: 604-209-1549

Email: zaichkow@gmail.com

Website: www.sfu.ca/~zaichkow

Candidate documents
Elector organization endorsement documents
Elector organizations promote election candidates.
Endorsement documents are listed alphabetically by elector organization name.
Councillor