Print
Hired trucking services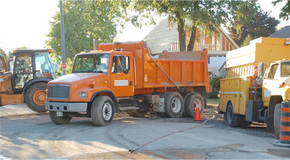 There are over 60 approved hired trucking/haulage companies registered to provide services for the City of Vancouver.
The City's Engineering Services branches (Sewer, Waterworks, and Streets) have a certain number of companies that work for a branch on a regular basis from the approved supplier list.
These companies are placed on a branch list and their performance is ranked.
Find information on the rankings, payment, method of assessment and means of appealing assessments for trucking and haulage companies.