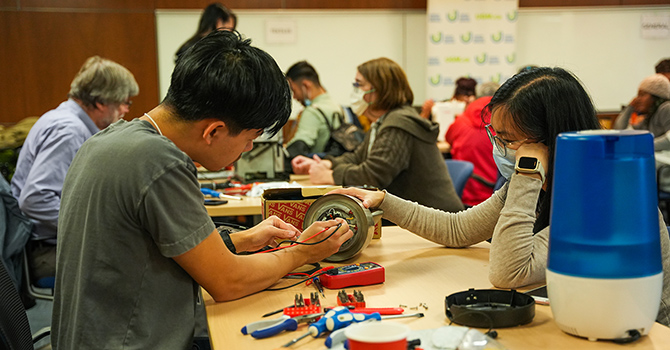 Repair cafés and zero waste fairs
Repair café volunteers needed
The Society Promoting Environmental Conservation (SPEC) is seeking repair café volunteers.
If you are passionate about waste reduction, helping the community, or repairing items, learn more and register to volunteer.
Repair cafés
Have a small appliance, electronic item, or piece of clothing that needs fixing? As part of our vision to be a zero waste community by 2040, the City, along with our partners, host free, convenient repair events in Vancouver to make it easier for residents to get items fixed that might otherwise end up in the landfill.
The more we can repair, reuse, and recycle, the longer products stay in circulation.
Join us at the next repair event and fix that hole in your favourite shirt or get that reading lamp working again. You might even see your "inner repairer" come to life to help you fix your own item.
Click on an event link below to book a repair timeslot.
Zero Waste Fairs
Zero Waste Fairs promote waste reduction by providing participants with the opportunity to share, reuse, and repair their stuff, and showcasing the work being done by local organizations moving us towards a zero-waste future.
Ideally, everyone who attends a Zero Waste Fair will leave knowing at least one new way to reduce waste in their own lives.
While each zero waste fair is a little different, they could include some or all of the following activities:
A free repair café
Seminars and topics on waste-related topics
Free bike tune-ups
Education booths from a range of local organizations focused on reducing waste
Opportunities to learn how to reduce waste in our own lives
A clothing swap or free swap
What is a free swap?
People bring small, portable items that are clean and in working condition to swap. Items are dropped off upon arrival and then folks can browse the free swap tables to find something they like. Free swaps are a good way to find new homes for items we no longer want, thereby reducing waste going to the landfill.
Repair cafés are funded with assistance from Metro Vancouver.