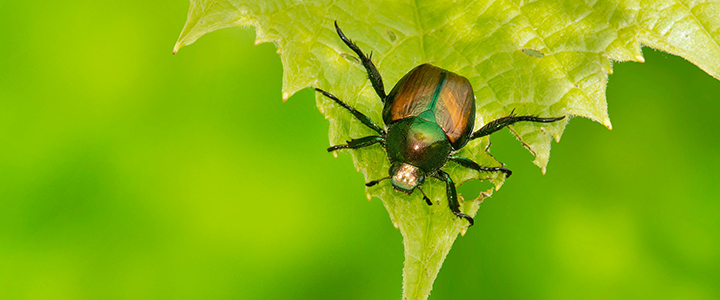 Treating City property
Our treatment plan, about the larvicide used, and treatment schedule and map.
How safe is the treatment?
The larvicide, Acelepryn, is not harmful to you, your pets, other animals, or pollinators like bees and butterflies.
It is sprayed directly on the soil and targets root-eating grubs.
Acelepryn is approved for use in Canada by the Pest Management Regulatory Agency of Health Canada and is permitted under our Health Bylaw Section 2.10 (f).
This spring, City and Park Board staff will treat parks and public lands for the invasive Japanese beetle.
Treatment will begin on April 6 at David Lam Park and continue into the month of May at parks in the West End, Downtown, Strathcona, Mount Pleasant, Fairview, and Kitsilano neighbourhoods.
We will treat large turf areas and small strips of grass around flower beds, shrubs, and trees.
Watch for signs
Signs will be posted in and around the parks notifying you of upcoming treatment.
Click or tap your area for dates
Treatment areas
We are treating approximately 70 hectares of park and public land.
This includes all lawns within a 200 m buffer zone around where Japanese beetle was trapped by the Canadian Food Inspection Agency in 2019.
Parks are open
We're not closing parks, but you should stay off the grass for 24 hours post-treatment to give the larvicide a chance to take effect.
There will be parks staff on site during treatment to explain procedures and answer questions.
Private property
You are not required to treat private property.
However, if your property is in the treatment zone and you want treatment done, it must be applied by a certified pesticide applicator.
More about the treatment
Have questions?
Send questions to us about the treatment plan for public land using our online form.
View all other topics below to see which organization to contact.
Identify regulated area
Restrict plant, soil, and landscape waste movement
Permits for moving restricted waste
Place traps for beetles
Intake reported beetle sightings
Canadian Food Inspection Agency (CFIA)
Phone: 1-800-442-2342
Eradication effort
Decision to eradicate Japanese beetle
Treatment product being used
Impact on landscape business