Poetry in Parks "Fresh Local Poetry" pilot project
Community members created poetry with professional, free-range poets in Vancouver parks as part of the Poetry in Parks pilot project Fresh Local Poetry.
People composed poems inspired by nature, food, urban farming, and memories of a favorite or moving outdoor experience and read the poems out loud or had a poet read them out for them.
What's happening
The Canine Library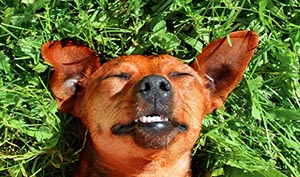 Come to Emery Barnes Park and sign up to borrow a dog from the Canine Library. Check them out using their bark-code and read your dog their favourite poem during your 15 minute session.
Saturday, September 14, 2019 from 1pm to 3pm
Emery Barnes Park, 1170 Richards St (at Davie St)
Presented in partnership by Vancouver Public Library, Vancouver Park Board, Paws 4 Stories, and St. John Ambulance BC/Yukon.

Register in person at the park.
Why we created this program
Poetry in Parks is the result of a Vancouver Park Board motion passed in May 2015 to bring poetry to Vancouver Parks as a pilot project in 2015 and broader program in 2016. (35 KB)
The Fresh Local Poetry pilot project was developed in partnership with the Vancouver Park Board's Arts, Culture, and Engagement team, Vancouver Public Library , and the City of Vancouver's Poet Laureate, Rachel Rose
The arts are an essential element in a vital, creative, and balanced city, and the Vancouver Park Board seeks to actively help everyone access and participate in the arts.
Contact us about this program