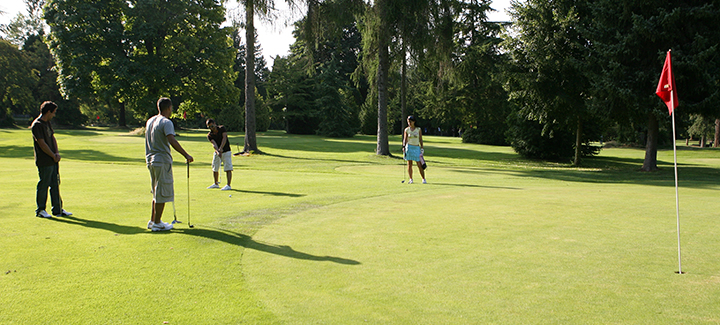 Stanley Park Pitch & Putt and Putting Green
The Stanley Park Pitch & Putt offers sculpted fairways, mature trees and lush greens in a spectacular setting alongside English Bay.
This pitch & putt course is minutes from the downtown core. The course is located close to many of Stanley Park's best amenities including the tennis courts, lawn bowling club, and Second Beach swimming pool.
With 18 holes ranging from 40 to 100 yards, this splendid course is free of hazards and provides an unrivalled setting bordered by a gorgeous rhododendron garden.

Tee times are first-come, first-served.
Contact us
Stanley Park
(near Beach Avenue entrance)
Pay parking
604-681-8847
Hours of operation
Daily
9am to 4pm - weather dependent and subject to change
Rental cut off is 2.5 hours before close
Course overview
Course length: 1,200 yards
Par: 54
Green fees
Prices include tax.
18 Holes Mon - Sun
20 round punch cards†
Monthly pass**
Adult
(19-64 years)
$15.12
$226.80
$90.46
Senior
(65+)
$10.61
$158.76
$63.32
Youth
(18 years and under)
$10.61
$158.76
$63.32
Punch cards and monthly passes can also be used at Queen Elizabeth Park and Rupert Park pitch and putts.
** Last day of sale for monthly passes is October 31. You can buy monthly passes for consecutive months.
† Punch cards are non-refundable, non-transferable, and valid for 1 year.
Rentals
Rentals available. Club availability is not guaranteed.
Rentals close two hours before close.
Minimum two clubs per person. You need at least a putter and an iron.
| Item | Cost |
| --- | --- |
| Putter | $2.36 |
| Wedge or iron | $2.36 |
| Rubber tee | $1.01 |
| Golf ball | $2.36 |
Clubs
We sell left and right clubs.
Prices include tax.
| Item | Cost |
| --- | --- |
| Putter | $39.20 |
| Pitching wedge | $39.20 |